How can AI Video Intelligence and its Applications help your Business?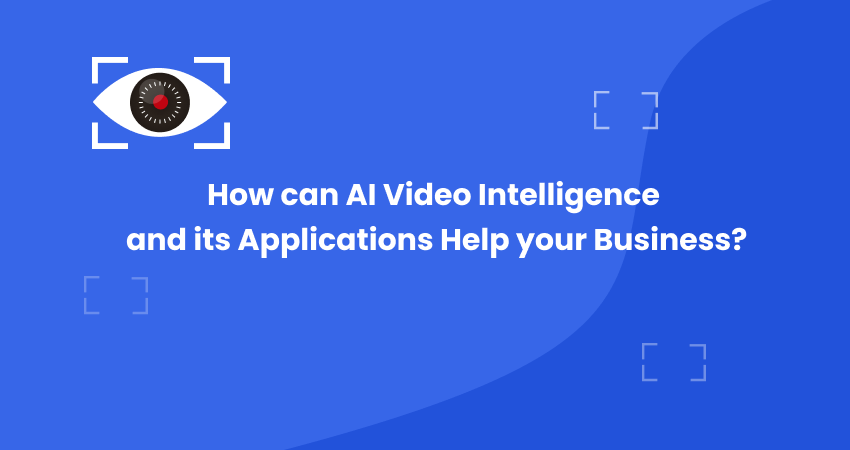 Introduction
While many of us may have heard of video intelligence in our lifetimes, rarely do we know all of its specialties and functions. This emerging technology has made advancements in many industries and enhanced their security infrastructure and their operational practices like never before.
What is video intelligence and how can it help your business?
In the past, store management and security teams have primarily depended on human observations and anecdotal information to keep track of their daily operations. More recently, video intelligence has increasingly been employed to gather long-term business intelligence regarding daily traffic and commercial activity in their stores.
Video intelligence is specially curated using cutting-edge computer vision technology. As such, several industries can gain a competitive advantage by allowing for tighter security measures and operational practices. To achieve these objectives, business owners should act quickly to the present moment, mainly when adverse situations occur.
How does AI video analytics work?
AI-powered video analytics refers to the discovery, interpretation, and communication of insightful patterns in data ranging from the video feeds and then applying those patterns that will lead to effective decision–making.
The purpose of video analytics software is to help review hours' worth of surveillance footage that the security personnel may not have the time to watch. Your surveillance system can only be helpful if it effectively captures the footage, which you can then go back and review later.
What are the various applications associated with AI-video analytics?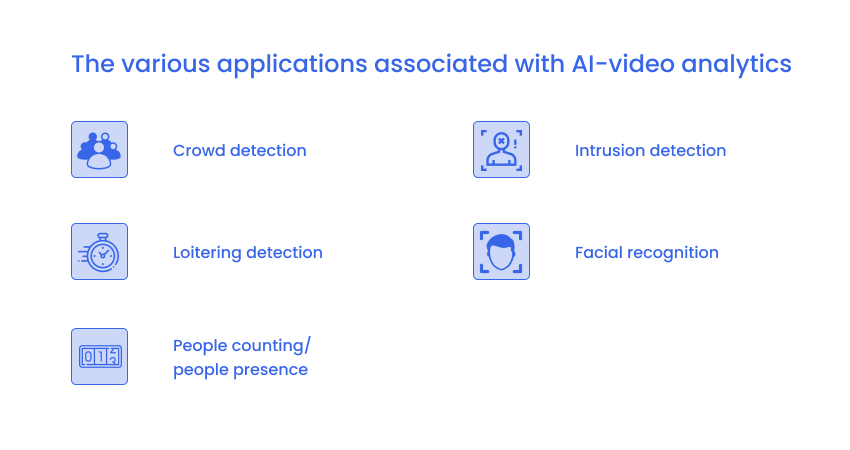 In AI-video analytics, applications will involve a methodology known as 'use cases.' Such a methodology helps to identify and organize the security system requirements.
Essentially, the use case is made up of a set of possible sequences of interactions between the systems and users in a specific environment and contributes towards an end goal. Use cases will also outline all the steps that the users need to take to complete an activity.
A list of use cases is explained below as follows: -
Crowd detection
Video analytics will estimate the number of people that are gathered in a specific area and can also detect queue situations. Typically, there would be a defined threshold and if that threshold is exceeded, it can trigger an alert.
Loitering detection
This is believed to be one of the more predictive threat detections that will analyze the time that the person in question had spent in the specific 'Region of Interest (RoI) without having carried out any substantial activity.
People counting/people presence
With such an application, you would be able to accurately detect and record queues and waiting times, entries, and exits. Thus, allowing you to keep track of the length of time that people spend in one place and how often that place has been visited.
Intrusion detection
In a store, access to specific spaces such as central monitoring rooms, billing desks, and display cases of valuable merchandise should be closely monitored and regulated based on the level of authority.
Facial recognition
Facial recognition helps to identify and confirm an individual's identity using their face. Such systems can also be employed to verify people in videos, photos, and in real-time. The camera will detect and locate the image of a face, whether the person is in a crowd or alone.
Conclusion
A comprehensive video analytics system will allow businesses to leverage the data gathered by the security surveillance network, which would lead to better decision-making capabilities. Such developments would streamline operations to suit the customer experience better while strengthening security protocols to prevent security violations.