What is AI-driven Restaurant Menu Clustering and How it Boosts Sales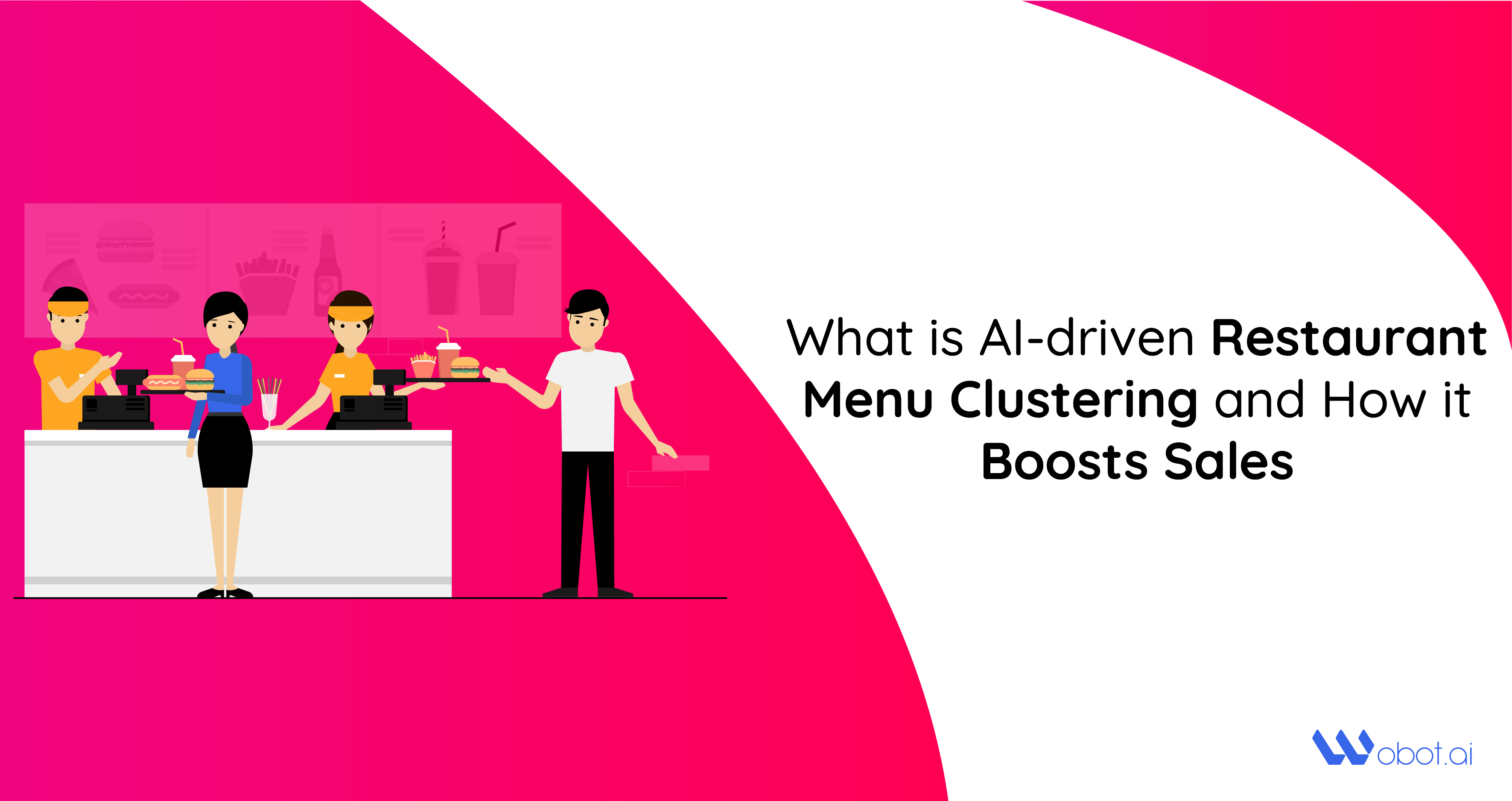 Know more about what menu clustering is and how you can transform it through artificial intelligence to understand customer preferences and send targeted messages with the right rewards
Restaurants and food outlets always look to send a personalized message and invest in the right outreach initiatives. However, along with the right message, sending the fitting reward is highly essential. It's critical to send this message in a targeted manner. A slight imbalance between the campaign budget and set reach can make or break the entire objective of the campaign.
Due to the immense importance of building the right campaign, restaurants rely on the data and solutions that can help them retrieve the correct inferences. Furthermore, implementing the insights retrieved from the data enables you to personalize the campaign, keeping the customers' preferences in mind.
As data processing is evolving rapidly, restaurants must adopt modern tech to get key points from it. That's where artificial intelligence (AI) comes into the picture. With AI, you can automate the process of menu clustering and segment your customers into various groups based on their purchasing patterns and buying behavior.
In this blog, let's dive deep into how AI transforms menu clustering and help run robust and result-giving campaigns.
What is Clustering and Why Should You Adopt it?
Before understanding the role AI plays in menu clustering, it's essential to know what menu clustering is and why businesses should adopt it.
Assume a food outlet that serves multiple food items from different cuisines and attends to people with different tastes. It needs to manage it's messaging correctly and make personalized marketing campaigns to drive sales. But to do that it must have a clear idea of what food items are being consumed on a larger scale and what are not.
This is also helpful in managing stocks and rightly catering to the customers' demands by ensuring you never go out of stock for items with potentially higher sales.
To address this problem, the owner of the business can divide all customers into various chunks depending on the food served by the restaurant. This is known as clustering.
For example, one cluster will have the customers who order fries, while the other will consist of those who order combos. Similarly, the food outlet can group customers into different desired segments.
With this differentiation, you can design reward programs for customers based on their preferences and make decisions with the help of actionable insights.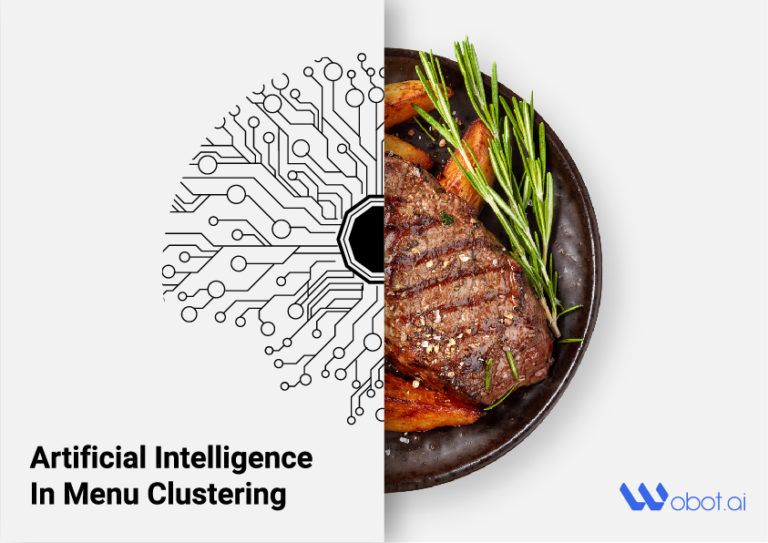 The Role of Artificial Intelligence
Restaurant owners can automate the process of menu clustering with the help of artificial intelligence. In addition, deriving logical conclusions is possible with AI. For example, you can dig deeper into the available data and find food items that can grow sales. With the help of this information, you can also carry out marketing campaigns and deliver a message that can encourage the sale of that food item.
With the help of computer vision, restaurants, especially drive-thrus, can create customer clusters using technologies such as Automatic Number Plate Recognition (ANPR). This will identify customers with the help of a unique number plate, record their purchasing patterns, and automatically segregate them into desired clusters. This will help recognize customer preferences and serve them accordingly to increase customer satisfaction and loyalty.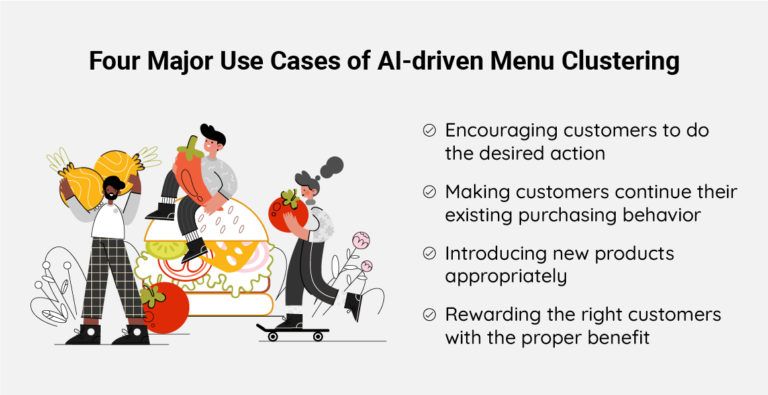 Four Major Use Cases of AI-Driven Menu Clustering
AI-driven clustering is done based on customers purchasing behavior. It is done for four main reasons, and they include:
Encouraging customers to do the desired action If a customer is ordering fries only, with the help of clustering, you can encourage the customer to add drinks to the meal by rewarding points.

Making customers continue their existing purchasing behavior If a customer regularly purchases high-value items, you can encourage the customer to follow the same purchasing pattern by introducing a rewarding system such as adding points to their accounts that they can redeem during their next purchase.

Introducing new products appropriately If a brand introduces a new product, it's critical to run a pilot before increasing its distribution on a broader scale. The best way to offer that product complimentary to customers who have diversified preferences as it indicates that they may be open to trying out new products.

Rewarding the right customers with the proper benefit A business needs to keep customer preferences at the forefront while delivering a marketing message. For example, a vegan or a vegetarian may not like the news about rewards for ordering non-vegetarian food items.
As a business owner, implementing these four use cases will give numerous advantages. You will know and serve what customers are looking for and build stronger customer relationships by gaining their trust, resulting in better customer retention.
##Benefits of AI-driven Menu Clustering
There are multiple benefits of operationalizing AI-driven menu clustering. Adopting it opens the door to unlimited growth by getting actionable insights. These benefits include:
Reduced Cost and Bigger ROI
As clustering helps you make data-driven decisions, spending on unimportant or unnecessary aspects can be controlled, reducing overall cost and increasing ROI.
Personalized Messaging
Creating clusters distributes your customers into various segments that can help run personalized campaigns. This is useful to reach out to customers with a personal touch, develop a sense of exclusivity and improve brand loyalty.
Timesaving
Running a marketing campaign and offering rewards could be time-consuming as the customer may not try them out instantly if they are not appropriately targeted. That's where clustering comes to the rescue. It allows you to target a specific group of customers and make a few tweaks according to the campaign results to make the entire process fast and save time.
Conclusion
Adopting emerging technology is at the center stage of your business growth. The functionalities that these modern techs bring in help reduce cost and improve ROI. AI is no different. It assists you with making intelligent, data-driven decisions and increase process efficiency.
AI-driven menu clustering is a new phenomenon that enables you to understand customer preferences and serve what your customers are looking for. By understanding customer needs, you will be able to make more robust customer relationships that turn into improving brand loyalty.
Implementing AI-driven menu clustering also bolsters targeted campaigns, makes it easy to bring a new product to the market by understanding the right audience for it, and encourage customers to continue their buying pattern by offering the right rewards. This whole process increases brand loyalty and customer retention by offering an excellent customer experience and opens doors to business success.