Using AI to Augment Reputation and Loyalty – The Retail Story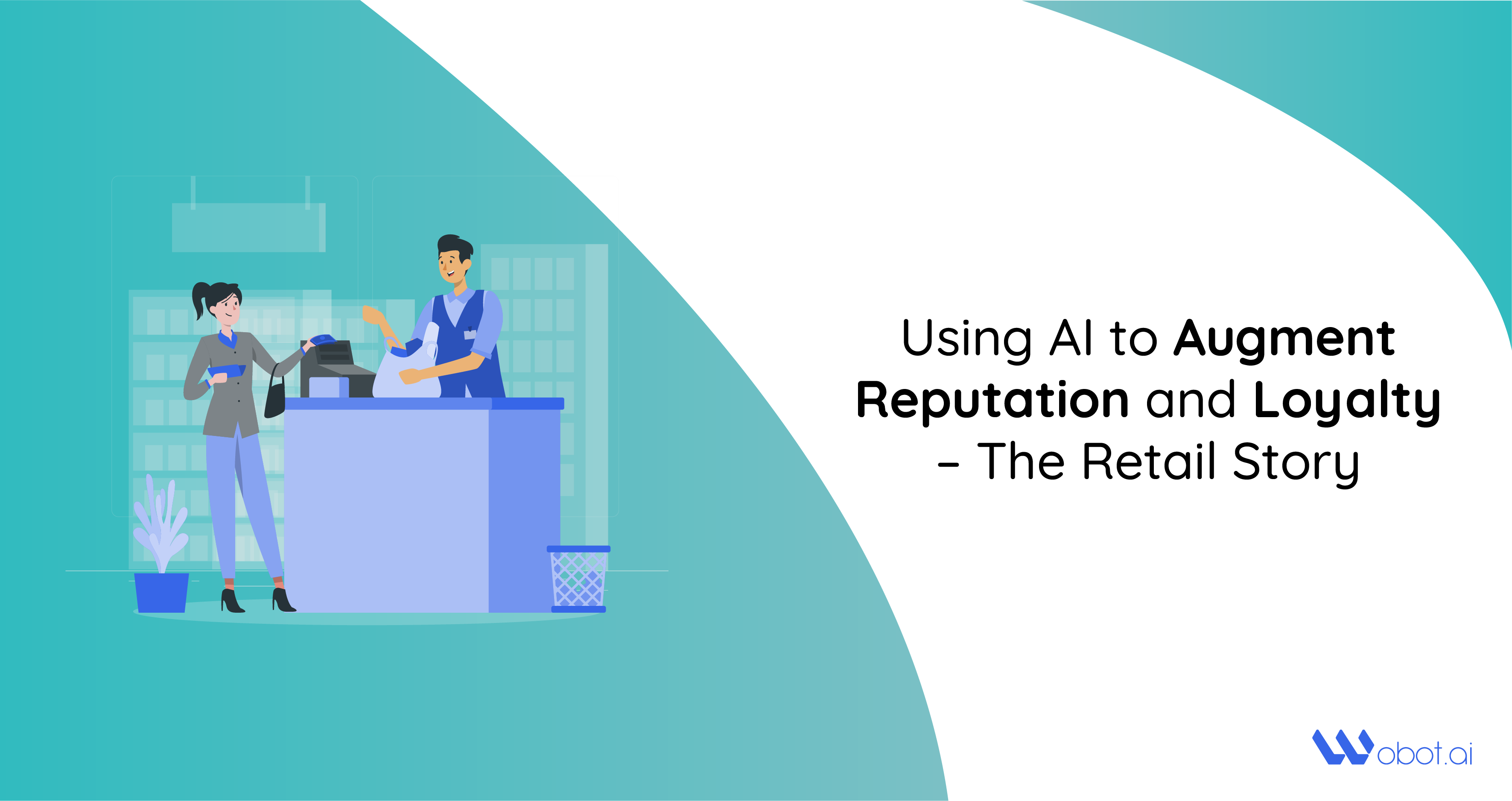 Artificial Intelligence in retail stood at USD 1.80 billion at the end of 2020. It is further expected to cross 10.90 billion by 2026. A Teradata study shows that over 80% of companies use AI in some form of production.
The primary aim of a business is to provide a satisfactory customer experience. With the advancement in technology and deep inculcation of technology, they have access to several additional tools and resources, such as video analytics.
Video analytics allow brands to gauge customer behaviour in real-time. With its help, your surveillance system can automatically figure out patterns, set up alerts, and draw critical insights.
These have transformed the way we see customer service interactions. It has also enabled businesses to improve response time and enhance the quality of interaction.
This article discusses the impact of AI, and how it helps the retail industry build reputation and loyalty.
How AI Helps Businesses to Improve Customer Loyalty and Brand Reputation?
We have all heard about AI and its impact so much that its inculcation has become a norm.
In the retail landscape, brick and mortar stores still hold the lion's share. But the pandemic and the subsequent growing affinity towards online shopping indicates that customers are inclining towards those providing smart solutions.
When we talk smart, we subconsciously have AI in mind. Here is how AI is helping in building customer loyalty and brand reputation –
Predictive Analytics Lets you Understand Customer Behaviour. If you want to run a business successfully, you need to have a tab on your customers and their behavioural patterns. AI has harnessed big data to draw critical insights into customer behaviour and predict their requirements.

Inventory Management In the traditional world, brands would follow EOQ, LIFO, FIFO, or other mechanisms to order their raw materials. These ideas were faulty, and did not take exceptional circumstances into account.
The inculcation of AI into inventory control has opened up alternative possibilities. It can predict scenarios, recommend a line of action, and also have the power to decide.
With reinforcement learning, retail can ingrain AI deep into their inventory management system. It would help them undertake meaningful testing, and adapt to various circumstances effortlessly.
Reduced Customer Wait-time Customers hate waiting. Also, endless waiting can frustrate all the parties involved. AI brings in video analytics based wait-time analysis and other features that help customers find answers to simple questions without requiring a customer executive. Plus, it allows brands to improve overall customer experience, and let your workforce focus on the more essential tasks.

Infusing Personalisation Personalisation and customer loyalty go hand in hand. More than 72% of customers are more likely to engage with marketing messages that satisfy their specific interests. 80% of frequent buyers prefer buying from brands that have a more significant personalisation factor.
It, again, seeps down to understanding customer preference. Most retail brands employ AI to up their personalisation game. For example, AI could be leveraged to understand customer behaviors and purchasing patterns which then analyzes this data and provides the customers with personalized promotions to enhance the shopping experience.
Video Analytics help in Enhancing Customer Experience With video analytics, brands can now capture customer behaviour. Gone are the days when surveillance systems were meant to do only that much. With AI-powered video analytics, organisations can gather data to enhance the overall customer service quotient, thereby improving loyalty.

Smart Stores Open a World of Possibilities The retail industry has some apparent benefits over online businesses. The most significant advantage being the presence of the customer in person. In a tryst to compete with online honchos, retail has inculcated the idea of smart stores. It allows them to utilise IoT, ML, geo-fencing, data analytics, and to understand and cater to their customers better.

Automated Queue Management Who likes standing in queues? Unless you are an Apple fan. It has been one of the issues with the retail landscape. With AI in the scene, the retail industry gets the benefit of automated queuing. It lets customers get an accurate status of time, and allows them to utilise their time better.

Workforce Performance Tracking helps in Streamlining Processes AI brings in the ability to monitor your workforce remotely for retail brands. Real-time tracking and detailed insights allow higher management to understand the chinks in their armour and discuss it with the workforce. It results in improved productivity, which also seeps down to higher customer engagement.

Creating AI-based Customer Loyalty Programs AI in retail has allowed brands to bifurcate buyers based on multiple criteria, such as age, interest, demographic, and likewise. They can then move on to improve personalisation by adding group-specific elements in the mix. Brands can create different loyalty programs, and ensure that everyone benefits, instead of opting for a one-size-fits-all approach.

Improved Customer Satisfaction If you can master customer satisfaction, you can seamlessly build reputation and loyalty amongst your consumers. With AI at the fore, you can customise and personalise the customer experience, and also leverage the entire CRM (customer relationship management). It allows brands easier access to the way customers think and better cater to their needs.

Embracing AI is the Only Way Forward for the Retail Industry
For businesses, it is imperative to listen to their customers and solve their pain points most feasibly. Retail has now well understood the importance of AI in helping them achieve it.
61% of brands are looking to take it a step forward and employ a Chief AI Officer in the future.
AI offers a world of endless possibilities. You can use predictive analytics to predict future behaviour, utilise AI-powered monitoring to streamline your processes and improve your workforce.
At Wobot.ai, we use AI-powered video analytics to help the retail sector in their day-to-day operations. It uses Computer Vision algorithms to analyse chunks of retail data and seek out vital insights for your business.
It helps us to deliver meaningful insights such as –
Footfall analysis
Wait-time analysis
Customer demographics
Heatmap for product placement
Click here to know more about our services for the retail industry.