The Role of Artificial Intelligence in Reducing Workplace Stress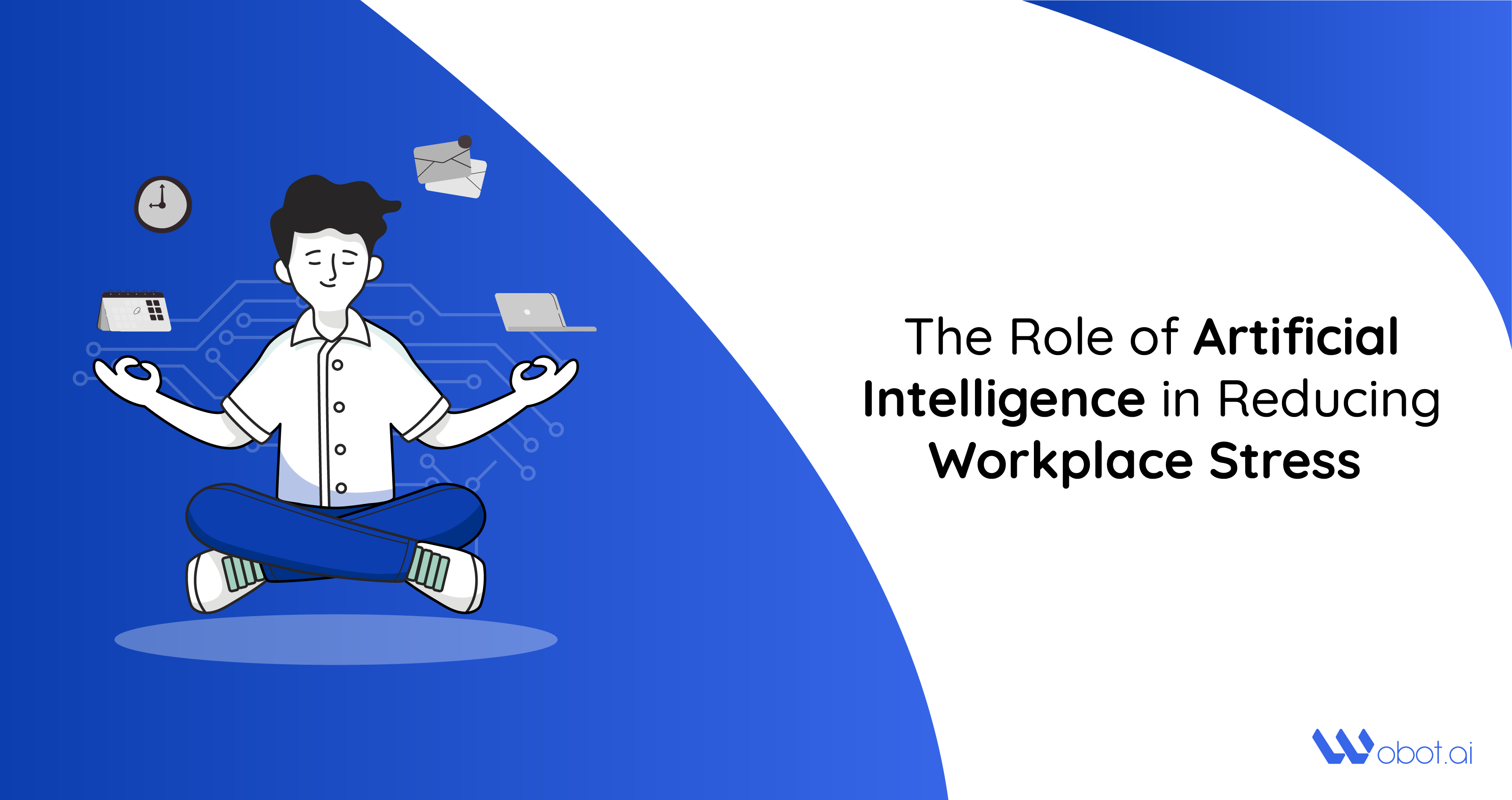 Workplace Stress is one of the least talked-about topics when it comes to leading a healthy lifestyle and ensuring mental health. There is enormous scope for educating employees regarding managing their stress and not letting it affect productivity.
As technology is evolving rapidly and artificial intelligence is replacing most manual operations, AI was supposed to replace human jobs resulting in added pressure on employees. However, the statistics tell a different story.
Almost 64% of employees think that automation technology helps them reduce both workload and stress
70% of employees are in favor of artificial intelligence replacing manual and laborious tasks
69% of employees believe that technology will enhance their jobs and not replace them.
Surprised? We, definitely, were!
We dig deeper into the role of artificial intelligence in stress management and how it can help reduce workplace stress. This blog will shed some light on some of the fantastic benefits of artificial intelligence to help employees cut down on workplace stress.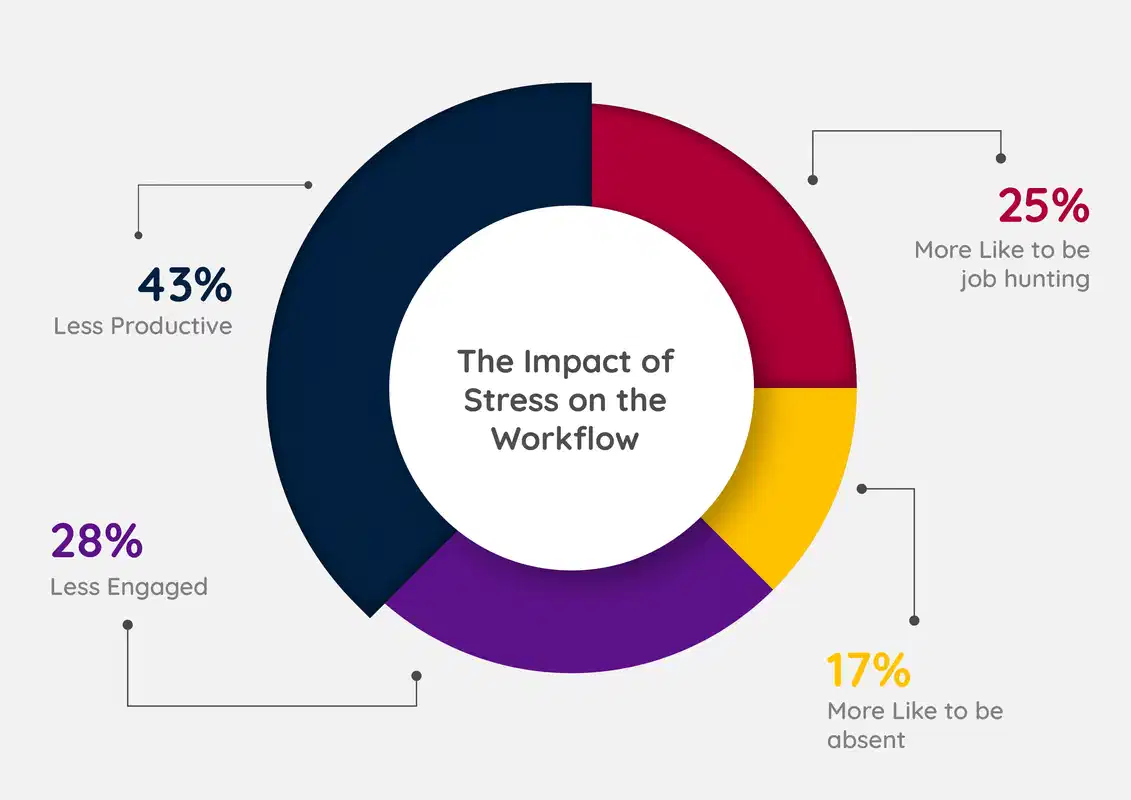 How AI Helps Tackle Workplace Stress
Automating Monotonous Tasks
It has been observed that one of the significant areas where employees feel incredibly stressed is doing repetitive tasks. Automating repetitive tasks such as finishing and sending daily reports, performing customer support activities, doing repetitive activities of speaking to customers and delivering the same message repeatedly, etc., allows employees to focus on creative tasks and use their skillset more efficiently.
Many companies implement chatbots for their primary customer support activities. In a survey, it was found that these chatbots are becoming efficient in answering up to 80% of the queries.
This is huge when it comes to allowing your employees to focus on what matters the most and the strength of AI help them do exactly that.
Enabling Stress Sensors and Emotion Recognition
The benefits of technology that's built to help human problems are huge. The new and developed technology allows understanding the state of mind of a person through their behavior and communication.
This groundbreaking innovation helps understand the emotional quotient of employees. Various AI-powered wearable tools, CCTV cameras developed with deep learning techniques analyze employee behavior and identify employees who are having troubles maintaining their mental health.
Recently, a group of students at MIT designed a wristwatch to track stress levels through their skin. This innovative gadget can tell the mindset of employees by measuring electric changes happening in the nervous system caused due to the sudden changes in the state of mind and get reflected through skin temperature changes.
Using these techniques, companies can encourage employees to take mental health as priority and take measures accordingly. This may include taking periodic breaks based on the emotional state and adopt healthy work practices.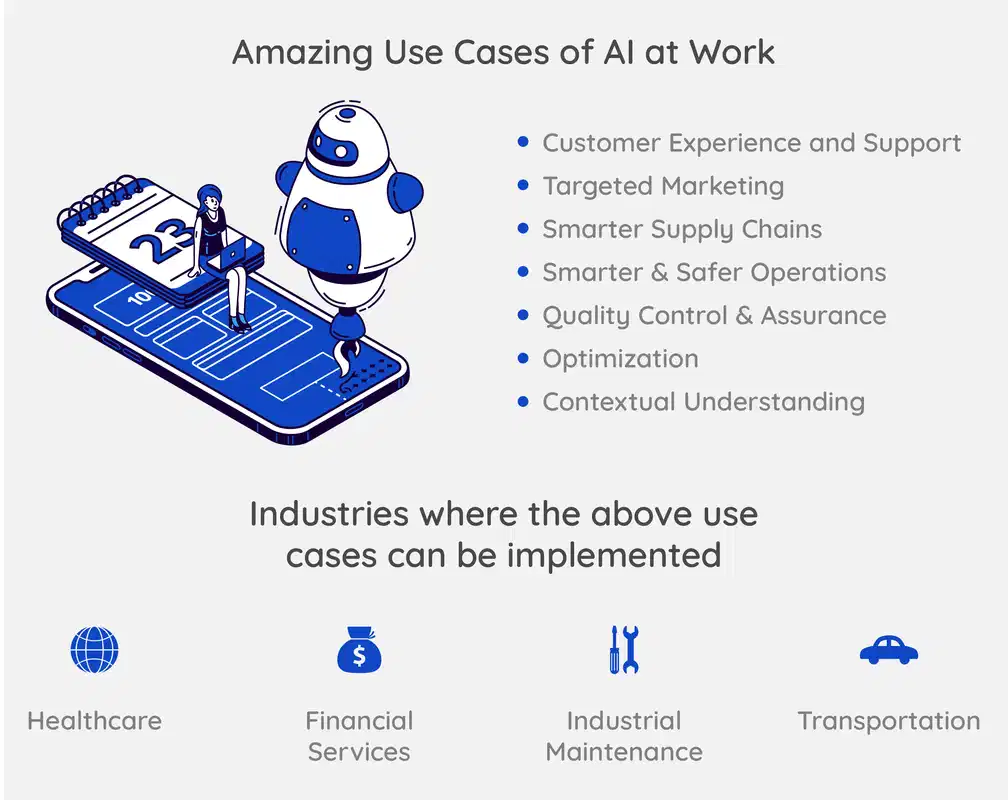 AI in Surrounding Environment
The other important aspect of artificial intelligence is that it can be molded into any shape and size due to its flexibility. AI in IoT is the best example of it.
Using the same technology, it is possible today to implement AI in your workplace surroundings to understand your living habits and making informed decisions using the data gathered.
Implementing AI into surroundings such as emotion recognition sensors, measures that can help increase productivity assist employees cut down stress and be more creative, resulting in better performance.
Managing mental health also depends a lot on the situation of your overall surroundings. Implementing lights that changes their brightness according to day or night time can help employees focus more on work with stable mindset.
Along with executing eco-friendly measures, combining it with artificial intelligence truly transforms the work environment and increases workplace productivity like never before.
Mental Health-friendly Automated Technologies
The future of mental health must be dependent on the growing and ever-evolving technology. For example, various services nowadays use natural language processing (NLP) to create chatbots that can talk with humans using personalized responses. This is highly useful when it comes to performing Cognitive Behavioral Therapy (CBT).
Employees can talk to these chatbots while they are having a low-intensity day and feel refreshed by getting some warmth.
Companies can implement these technologies to help employees offer services to reduce stress in case of increased workload. Therapeutic chatbots help understand your employees' moods and encourage them to think positively by conversing with affection.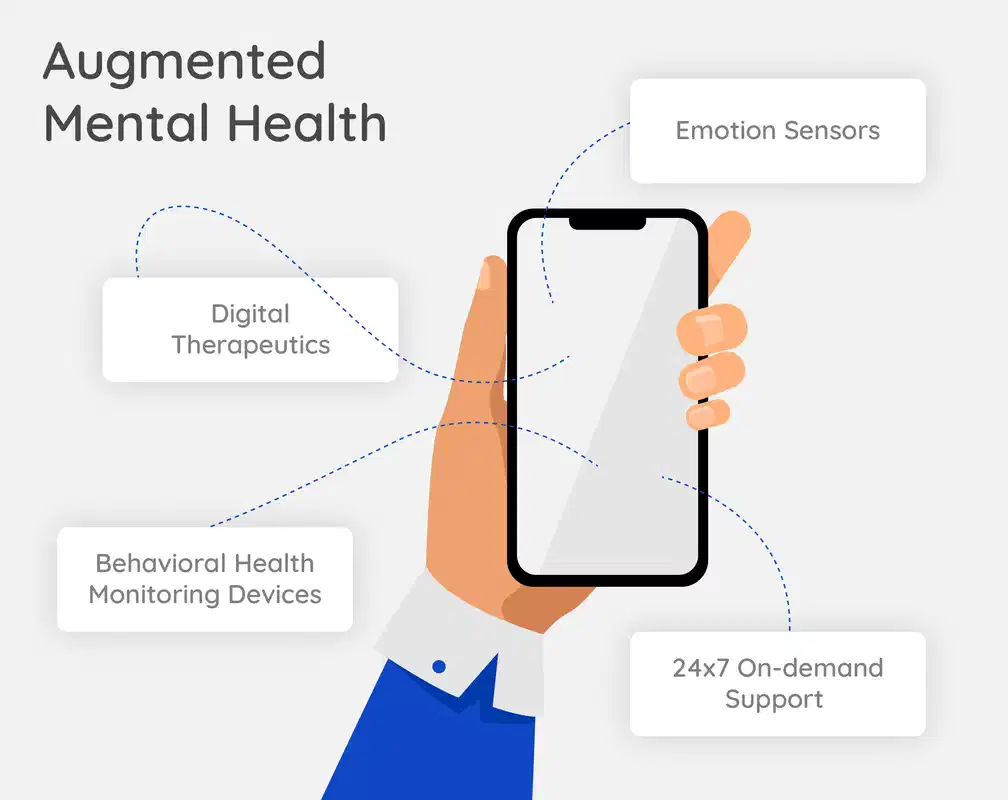 AI For Employees
The above examples and use cases of artificial intelligence suggest that AI has a massive role in reducing workplace stress. Employee burnout is something employees face regularly. Implementing solutions that can help employees overcome burnout encourage employees to work in a healthy environment.
Companies must understand the importance of employee mental health and provide solutions that can help them overcome it. Statistically 72% of employees have said that they feel happy when they have a low-stress environment telling the importance of a healthy workplace.
As technology evolves and artificial intelligence reaches newer heights, the benefits of AI in mental health are just a trickle effect. However, adopting AI-powered tools to ensure positive mental health is the future and companies need to implement them sooner than later.