The math is simple: Happy Employees = Happy Customers in Your Restaurant.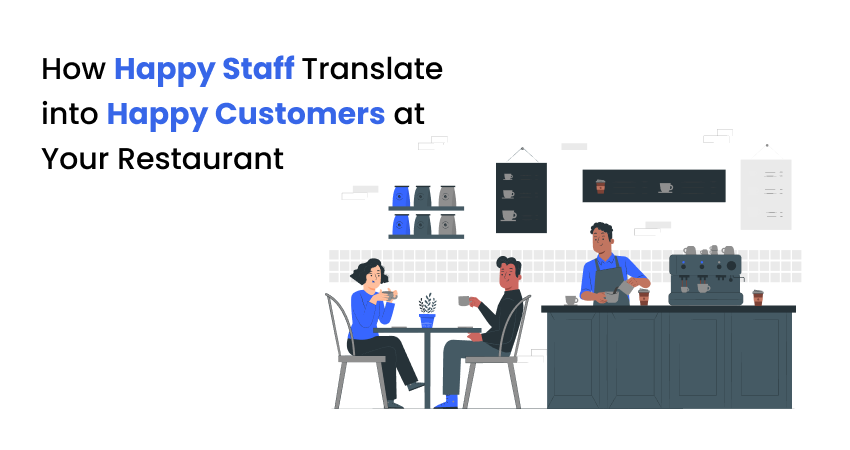 How Happy Staff Translate into Happy Customers at Your Restaurant
And the secret ingredient to the soup is = Happy Employees!
A little underwhelming, I know. A well-kept (but, not really!) secret of the Fortune 500 circle is that happy staff translates to happy customers.
This is true of all businesses, but restaurants, in particular, have to place added focus on keeping their employees happy, because their interactions with customers are not limited to the occasional email sent, or phone call made. Restaurants thrive because their people make customers happy. Be it serving them flavorful meals or giving them fantastic service, restaurants rely on people to ensure customer satisfaction.
In this article, we will outline why restaurants need happy employees, how to make sure employees are happy, how happy employees translate to happy customers and we will also discuss the tools you can use to ensure that your employees are not overwhelmed.
True customer happiness comes from happy employees. Here is why Restaurants Need Happy Employees:
According to Peakon Employee Survey Data, where 80 million employee survey responses were recorded, 59% of the global workforce is disengaged as of January 2020. The Engagement Institute released a study showing that disengaged employees cost companies money – up to $550 billion a year. While the numbers of engaged employees had started rising pre-pandemic, the global slowdown has resulted in a high disengagement again. Attrition is at an all-time high and there is a perpetual labor shortage, especially across fast-food restaurants globally.
So when you have a healthy staff in your kitchen, their work and wellbeing are visible in the food that comes out of your kitchen. This makes it even more important to consider your employee's well-being in your organization.
A quick and hassle-free meal is every working person's go-to. If you are in a hurry, a meal during the drive is your savior. Drive-thrus are your long journey's best friend. Getting an easy, convenient, and time-saving meal without having to leave the comfort of your car is a revolution in the F&B industry. The concept of a drive-thru provides customers enough time for themselves inside their car during commute time. To keep the speed and productivity of your employees intact for better customer service, restaurants need to keep their employees happy.
Setting up your kitchen that is easily accessible, quick, and convenient from all aspects is near to impossible. But the good news is, the use of some interesting strategies helps you figure out some of the most viable and convenient ways to make your staff and customers happy. With technology that is equipped to manage human and non-human tasks, it provides the best services for your restaurant.
How to Make Sure Employees are Happy
How to make sure employees are happy
Make the work inside the kitchen purposeful
Work done without any meaning to it turns out soulless. Creating an environment for the employees to find a purpose in their work reminds the employee of the greatness and repercussions of their work. Offering meaningful employee development scope further increases your employee's commitment to their work and the organization. Knowing that there are options for growth in their work and that there is a way to get there drives the employee to work better. Providing appropriate incentives at every step of their growth to help them see crisp changes in their career is important. This sense of belongingness and commitment turns into providing great service to customers knowing it will also benefit their long-term goals.
In-house training as a part of the work culture
Inhouse training is a huge step in an employee's career development. Organizing on-the-job training and development helps employees upgrade their skill set and accordingly rejuvenate their motivation to work. Without an obvious career growth, employees' motivation to work in turn providing great service tends to wear off. Employees are in search of growth opportunities and new skills that would contribute to their success in their current positions and potentially lead to advancement. Providing such ongoing skill set training and coaching ultimately helps them shine through in customer interactions.
Rewards and recognition
The praise that comes along for a job done well in itself is a token for remaining motivated and working with full dedication. A formal rewards program where leaders at your restaurant recognize top employees can foster camaraderie. This rewarding program for employees for their great customer service interactions is not only a reward for the employee but is a way of setting a benchmark for good customer service. This encourages other employees to work for providing excellent service to the customers they engage with and in turn taking your organization to a whole new level.
Adequate Staffing, especially at peak hours
For an F&B business, whether new or established, it is important to know what timings are your peak hours. Reducing chaos and workload in the kitchen, waste disposal, and cash counters can require additional staff. Businesses that adequately staff, especially for peak hours, see a reduced staff stress load which in turn helps customers receive a pleasant experience with your restaurant.
Food, overtime, and other benefits
Giving employees the right benefits during and after their shifts can increase work morale and help build stability in employees. QSRs usually have a high employee turnover due to lack of pay and benefits but if businesses provide quality benefits such as shift meals, overtime, etc- employees would stick for longer- which reduces training costs for new employees who might not understand the business from the get-go- making customers unhappy.
How happy employees = happy customers
Gallup's statistics found that 70% of American workers do not commit to their work fully. There is no denying that a happy employee and a happy customer have a direct relationship with the sales and ratings of your restaurant. Here are a few instances of how your happy employees can entertain happy customers.
Flow of Creativity
A happy mind is a powerhouse of creativity. In a world of rapidly changing needs and customer preferences, employee-customer interaction cannot be a scripted roleplay. The increasing competition between organizations has rightly put creativity to be the forefront player when it comes to determining success.
Innovative and creative thinking is a critical skill for your employees as your customer service staff is the first-hand experience your customers get of your business. Happiness is a great contributor to creativity as it increases the mental flexibility of people and promotes risk-taking and challenging behavior easier. Such qualities of your employees increase the positive attitude of customers towards your business.
Better Service
A happy employee who is satisfied with the company is more promising and is more motivated to better service and help serve customers with more information and enthusiasm.
Companies that have happier employees also lean towards a higher earning in comparison to their competitors.
These things are related. A happier employee tends to gain more information about the product and presents it to the customer with enthusiasm and positive energy. Your customers at the receiving end will certainly feel the change. This adds value to the informing service making it more preferable and customers will be willing to visit the business again.
Saved Money and Employee Turnover
Employees who enjoy the workplace are more likely to happily stay for long-term service. This saves the additional costs to be paid in hiring a new worker including the cost of advertising or interviewing, the cost of onboarding and training, the cost of errors as well as time for adjusting, etc. This is too much work once again and most of the time, not worth the hassle. Instead, this money could be used to set up an AI service for instance to organize employee work and thus enhance customer service. Therefore, employee happiness goes a long way in bringing in quality service to happy customers.
Use of AI in Sharing Employees' Work
Ever wondered how robust and monotonous it is to keep reminding someone to maintain the hygiene of the place and clean regularly? Well, to bring this to an end while considering the service staff at the kitchen, introducing a cleaning checklist for hygiene management without having to constantly remind the staff would reduce staff stress, which in turn, can help create happy customers. Increasing food wastage is one of the alarming issues that need to be checked. waste management checklist is another technically intelligent solution we can rely upon. It helps understand the possible reasons for waste and also possible solutions to reduce it, being a great help to the employee.
5 tools that can improve the employee experience
5 tools that can improve the customer experience
ConverseNow
ConverseNow is a Voice Artificial Intelligence (AI) company based in Austin TX. ConverseNow automates and personalizes restaurant orders on high volume voice channels e.g. phone, drive-thru, voice assistants, self-service kiosks. Their human hybrid technology takes orders autonomously just like a human. The technology can even offer personalized recommendations to drive upsell.
Jolt
Jolt is a digital assistant manager that enables better efficiency even when you're not there. You can access Jolt even through smartphones and tablets. Jolt helps organizations achieve team accountability, digital food safety compliance, and even boosts employee performance.
Food Cost Calculator
Most of the time calculating the food cost percentage can be time-consuming and is often guesswork. Toast's free Food Cost Calculator helps to calculate your food cost percentage based on actual data. It shares the five most popular items based on similar restaurants' menus in your state, then it allows you to calculate each item's food cost, plus cost per pound and/or cost per cup for each ingredient. It allows you to create your custom menu items and determine their ideal price.
Restaurant365
Restaurant365 is a consolidated back-office solution that helps manage your accounting, inventory, and labor scheduling. It is helpful in forecasting sales, better controlling your food costs, and optimizing your staff's scheduling based on your sales history, timing, and even the weather.
Wobot
With the help of a drive-thru checklist, you can upgrade your QSR services and experience by reducing wait time and creating a safe and secure food experience both for your staff and your customers. Wobot's checklist works based on customers' past order history, weather. This AI system works by identifying a particular car's wait time and licensing without human interference, which in turn reduces overall staff stress. Greater waiting time increases employee stress and might hamper your ratings too. Analyzing the approximate wait time per vehicle helps strategize and makes the delivery process faster and more efficient. The analysis of vehicle wait time would give you an estimate of how many staff to engage in customer service and how many to work on other stuff.
A healthy staff environment functions efficiently in the favor of amplifying good customer service. This is why it becomes essentially important to enhance staff satisfaction. The assistance of AI in such an attempt goes deep down in empathizing with the staff members for providing a better experience to the customers. Using AI to organize work systematically among the staff can indeed escalate to attracting happy customers to your restaurant. For swift, chaos-free, and efficient customer service, Wobot's checklists drive your kitchen services to a whole new level.
The journey from a happy staff to a happy customer is just one step away- blending Wobot into your business practices. Want to incorporate cutting-edge technology in your service delivery? AI and Video Analytics enabled checklists and systems that make your employees' lives easier- only with Wobot.
Get in touch with us and book your demo today.