Restaurants: Improve Customer Experience with a Digital-First Approach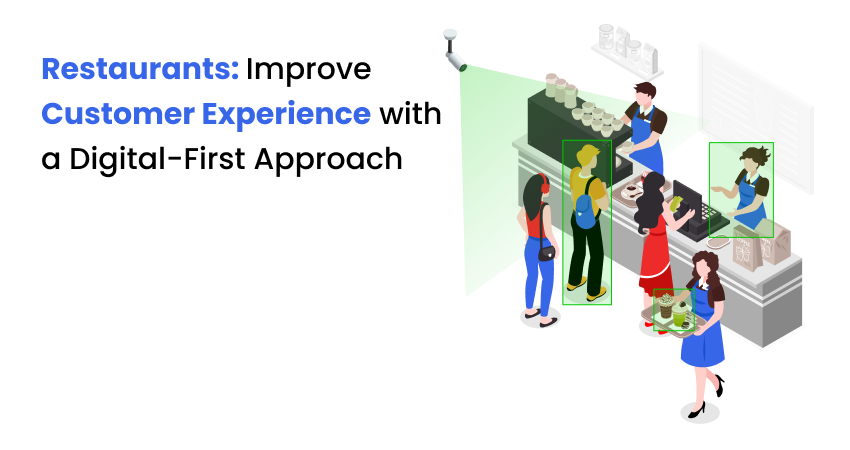 The restaurant industry is highly competitive and customers' have an increased need for accelerated speed of service and enhanced customer experience.
Good customer experience relies on multiple factors, all of which achieve one thing: convenience.
So, how can restaurants improve customer experience?
Out of many restaurants that shut their doors in the last two years, the few that managed to exist still were restaurants that were quick to digitalize their business models, operations, and offerings with technology.
A complete digital transformation of restaurants is the need of the hour.
Why Does Customer Experience Matter?
Customer experience is non-negotiable.
Consider the following statistics.
American Express revealed that 7 out of 10 consumers in the U.S. do repeat business with restaurants that offer a smooth service.

Research conducted by the Harvard Business School shows that a one-star increment in the Yelp ratings of restaurants propels the revenue by 5-9%.

Microsoft's State of Global Customer Report 2017 shows that for 96% of customers, good customer service is tantamount to their loyalty towards a particular brand.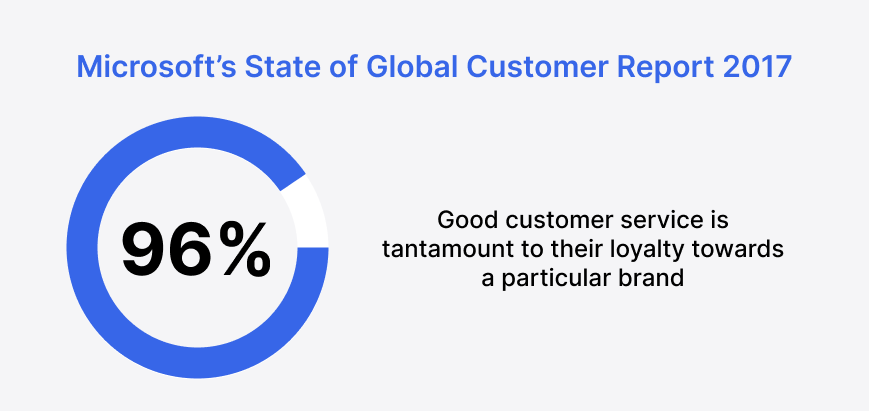 As per Retail Customer Experience, Brands with better CX drive 5.7 times more revenue growth than their competitors who lag in CX.

Review Trackers' textual analysing on 331,920 online reviews which include 1,300 restaurants, 'service' was the most frequently used keyword.
Many restaurants winning in the food services space are using technology to track factors like queue lengths, customer wait times, speed of service, error rates, customer feedbacks, and beyond. Tracking such factors allows businesses to optimize their operations resulting in better customer experience each time.
Restaurants are also rapidly adapting to AI video intelligence that gives them real time insights on their daily operations. Let's dive deeper into how digital transformation of restaurants can be achieved through new-age technology that uses AI and automation.
How Is Technology Helping Restaurants Enhance Customer Experience and Streamline Operations?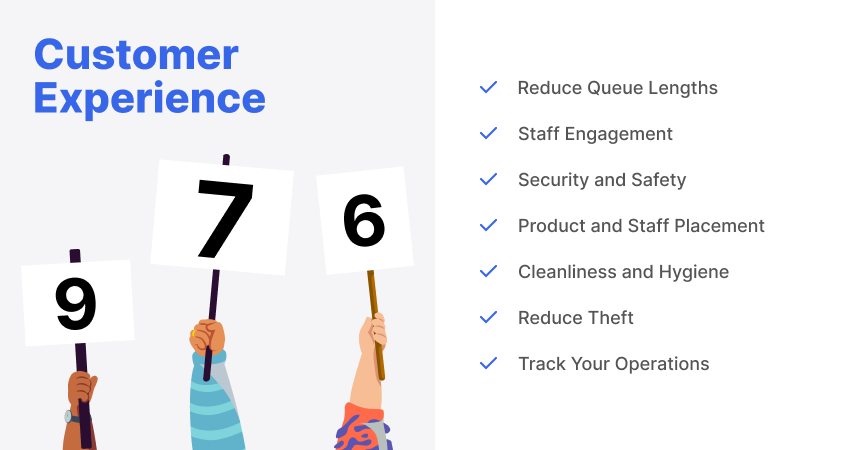 Reduce Queue Lengths
Higher queue length implies greater wait time. Such a problem arises when restaurants cannot predict when more or less staff members would be required. However, restaurants can use video analytics and get real-time updates on queue lengths, allowing them deploy staff as and when required.
Staff Engagement
One of the best ways to build strong relations with customers is by monitoring how engaged customers feel when they eat at your restaurant. Video analytics allows you to track engagement between customers and staff, and detect areas of improvement instantly.
Security and Safety
Restaurants can capitalize on their existing CCTV cameras to keep a check on the safety and security guidelines followed by the industry. Since, manual monitoring is prone to error, automating safety and security tasks allows cameras to detect violations. Enabling instant alerts on your device allows you to prevent any accident before it occurs.
Product and Staff Placement
Through Video Analytics restaurants can learn about customer density in different areas of the premises through heatmaps. The heatmap data allows restaurants to place staff, products, and promotions in areas where customer traffic is at it's peak.
Cleanliness and Hygiene
Ever since the inception of Covid-19, cleanliness and sanitization is a top priority of restaurants. It is human tendency to gravitate towards cleaner spaces. Restaurants ought to maintain strict cleaning and sanitization schedules. Video analytics allows you to study the cleaning activities and detect scope of improvement.
Reduce Theft
Theft is one of the major concerns for a restaurant. However, CCTV cameras backed with AI allows restaurant owners to know what's happening behind the counter, reducing cash mismanagement and theft.
Track Your Operations
Operations require continuous improvement, and a feedback system to keep bottlenecks in check. CCTV cameras can be leveraged; instead of relying on simple video monitoring owners can use a software that allows them to raise tickets as and when deviation from best practices in noticed.
Conclusion
The restaurant industry is highly competitive. Restaurants that are digitalizing their business with automation and AI are able to deliver improved customer experience as an added bonus.
We at Wobot.ai use Video Intelligence as a means to help restaurants deliver better service to customers. We give restaurants access to simple software that uses their existing CCTV cameras to run industry-specific tasks and get instant insights based on their daily operations. Our feedback system is not only pre-emptive and non-biased but also continuous and actionable.
We have always strived to deliver high-quality video analytics services that are scalable and easy to install. A pioneer in the industry, we have endeavored to provide the best to our clients. Apart from our services, we desire to keep our customers informed about the latest trends in the industry.