How Video Intelligence Can Flip the Script on Restaurant Labor Shortages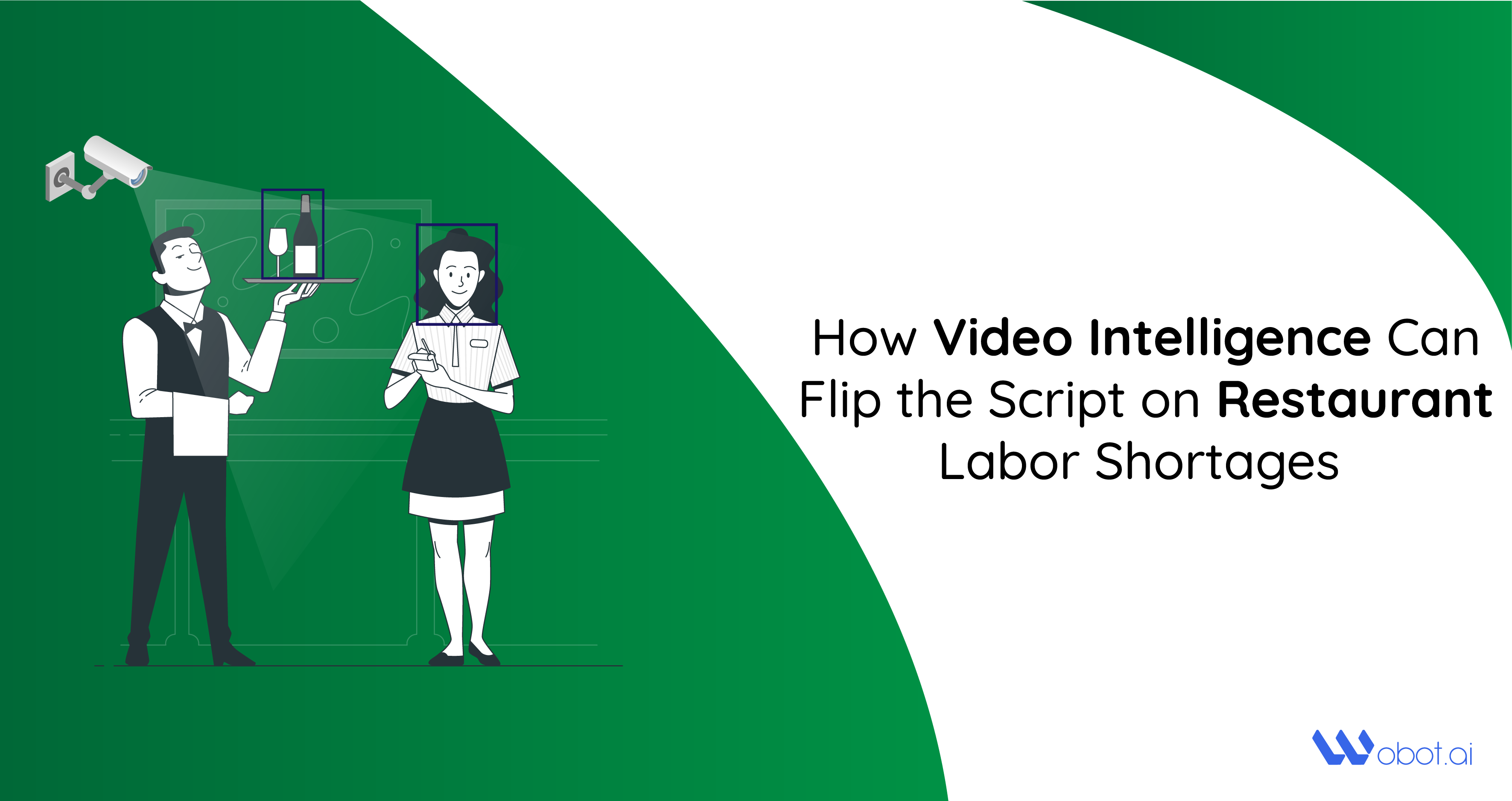 With the pandemic came the challenges of labor shortage, remote workforce, and increased customer demand for reopening. Restaurants can look to augment their workforce and generate real-time insights on measures to improve customer experience by powering existing CCTV cameras and navigating through the challenges posed by the pandemic.
For months, restaurant owners waited for a time when things would go back to normal, a time when customers would start coming in, and revenue would increase.
However, this hope couldn't be farther from the truth.
As the restaurant industry slowly comes out of the pandemic, another crisis is already making its mark – the availability of labor. Dine-in restaurants and QSRs are no longer suffering from wary diners or capacity limits; instead, they struggle to retain and hire enough employees to handle the influx of customers.
Even though labor crunch is widespread throughout different industries, it is especially noticeable for restaurants – particularly QSRs, as they are short on chefs, washers, and wait-staff.
According to the National Bureau of Labor Statistics, in May, employment at eating and drinking establishments was 1.5 million jobs below pre-pandemic level, or down by about 12%. In addition, a QSR web poll shows that more than 31% of restaurant company leaders have closed stores due to a lack of employees.
Restaurants are continuously looking to attract and retain workers in various ways, from cutting operating hours to offering better benefits. Wages are also seeing an increase, with restaurant workers getting wages over $15 an hour for the first time this summer. Still, many restaurants have struggled to both hire and retain workers.
Now, as restrictions ease further, vaccination rates improve, and Covid-19 cases come down, customers are all the more likely to want a sit-down meal prepared by the chefs. Therefore, the only way to survive is to find creative solutions to the labor problem.
So, as restaurant owners, what can you do to augment your existing workforce, increase sales, and improve employee retention? You can deploy video intelligence through AI-powered cameras.
What is Happening in the Food Industry? There is no denying that the pandemic has brought about a societal shift for various industries. However, high turnover has always been a big problem for the food industry, exacerbating the current labor woes.
According to the Bureau of Labor Statistics, the turnover rate in food service reached a whopping 130.7 percent in 2020, compared to a still extreme 78.9 percent in 2019.
The critical question that now emerges is, "Is there a way to make certain aspects of restaurant work more enjoyable, innovative, and rewarding for employees?".
Yes, this can be done through the use of technology. A technological revolution for the food industry has been in the making for decades. The pandemic has simply pushed the industry to act now. As it turns out, there are certain aspects of daily restaurant work that very few employees want to do as it is exceptionally challenging or not rewarding at all. That has pushed national chains to search for ways to automate specific processes to drive efficiency and consistency.
In this next section, let us go through the various ways in which technology such as video intelligence helps food chains make the best out of their existing labor force.
How Video Intelligence Supports Restaurants
When you can't fully staff your establishments, you are bound to close them on a temporary or permanent basis, just like the case with many famous restaurants. This situation leaves you with two options: compete for scarce labor by increasing wages to unsustainable levels or deploy technology that will help you realize more value from your existing staff and resources.
Video Intelligence can help you augment existing staff and thrive in the current environment by enabling you to automate daily activities and run your business smoothly with the following solutions.
1. Improve Customer-to-Staff Ratio
Let's take the example of the dine-in restaurant. With the help of video intelligence, you don't need to worry about finding an empty table, cleaning the table as soon as the customers leaves, or even making a customer wait for a long time before taking their order.
With real-time insights, you can instantly learn about these factors to improve your customer-to-staff ratio. When you get real-time insights about these critical factors, your staff can focus on other urgent and essential work without worrying about missing these customer-related activities. This strategy frees up a lot of time and improves customer experience as they are being catered to at the earliest without a lot of wait time. This exact process is also applicable to drive-thrus and QSRs queues.
2. Enhance the Quality and Speed of Service
Lack of staff can lead to increased wait times. Increased wait times are not suitable for two reasons: firstly, they have an inverse relationship with customer experience, and secondly, it adds a limit to the restaurants' ability to turn tables more profitably. With video intelligence, you can stay informed of the wait times, speed of service, queue lengths, and footfall in your foodservice establishment. Studying such critical data and getting real-time notifications of the ongoing scenario makes it easier to manage your current staff efficiently. Furthermore, when customers are quickly served and attended to, they are bound to leave your restaurant with positive sentiment, which would encourage them to come back again and not be deterred by the slow service they are encountering everywhere else.
3. Streamline Operations
Lack of staff can lead to bottlenecks, hamper overall operational efficiencies, and detract from customer experience. With Computer Vision powered video intelligence, restaurants can check operational performance in real-time, quickly identify issues, and implement solutions immediately. For example, video intelligence technology can alert managers that a customer has been waiting at the order placing counter for more than a predefined time and has not been attended to. Like this, managers can instantly deploy staff to take the customer's order, and the staff would not have to wait at the counter all the time. Something like this adds to the customer experience and also frees up the staff's time to cater to other possible activities.
4. Increase Efficiency
Cameras are no longer only serving the purpose of enhancing safety, deterring crime, and improving security. They can now also be integrated with Point-of-Sales (POS) systems, drive-thru order boards, and speed of service timers. Armed with more accessible and complete information, restaurants get all the critical information through the cameras and the PoS systems in one place. This information helps adjust the staffing requirement, frees up the staff to focus on other essential tasks, and reduces the need for human intervention. For example, when a customer places an order, it goes straight to the kitchen for preparation. Then through the help of videos, various activities could be understood. For example, it could be seen that correct portions, ingredients, and condiments are provided with each meal to ensure order accuracy. Or, you can form an understanding of the peak business days, hours, and average customer wait-time to adjust the staffing accordingly.
Video Intelligence is a versatile technology that lets you, restaurant owners, make the best out of your current workforce by improving your daily processes, employee productivity, and customer experience. Retaining your current workforce also becomes easier as employees can focus on more rewarding work and leave the rest to AI.
You Need Permanent Solutions to Labor Shortage
The restaurant industry labor problem is a critical one that has been going on for many years and will likely go on for many more. Restaurants already struggling after some difficult years can not wait for labor to return, and they also can not risk reducing profits as the wages are progressively increasing.
To move more confidently into the future, restaurants should invest in technologies that improve customer experience and enhance the existing staff's time and quality of work. Technology, such as video intelligence, can ease this heavy burden restaurant owners bear on their shoulders.
Even though the current situation is challenging, managing it proactively and providing customers with a good experience while also maintaining the bottom line is extremely important.
Reach out to us at info@wobot.ai or visit https://wobot.ai/ to understand how video intelligence can benefit your food business.