How Did the Future of Fast Food Drive-thrus Arrive Ahead of Schedule?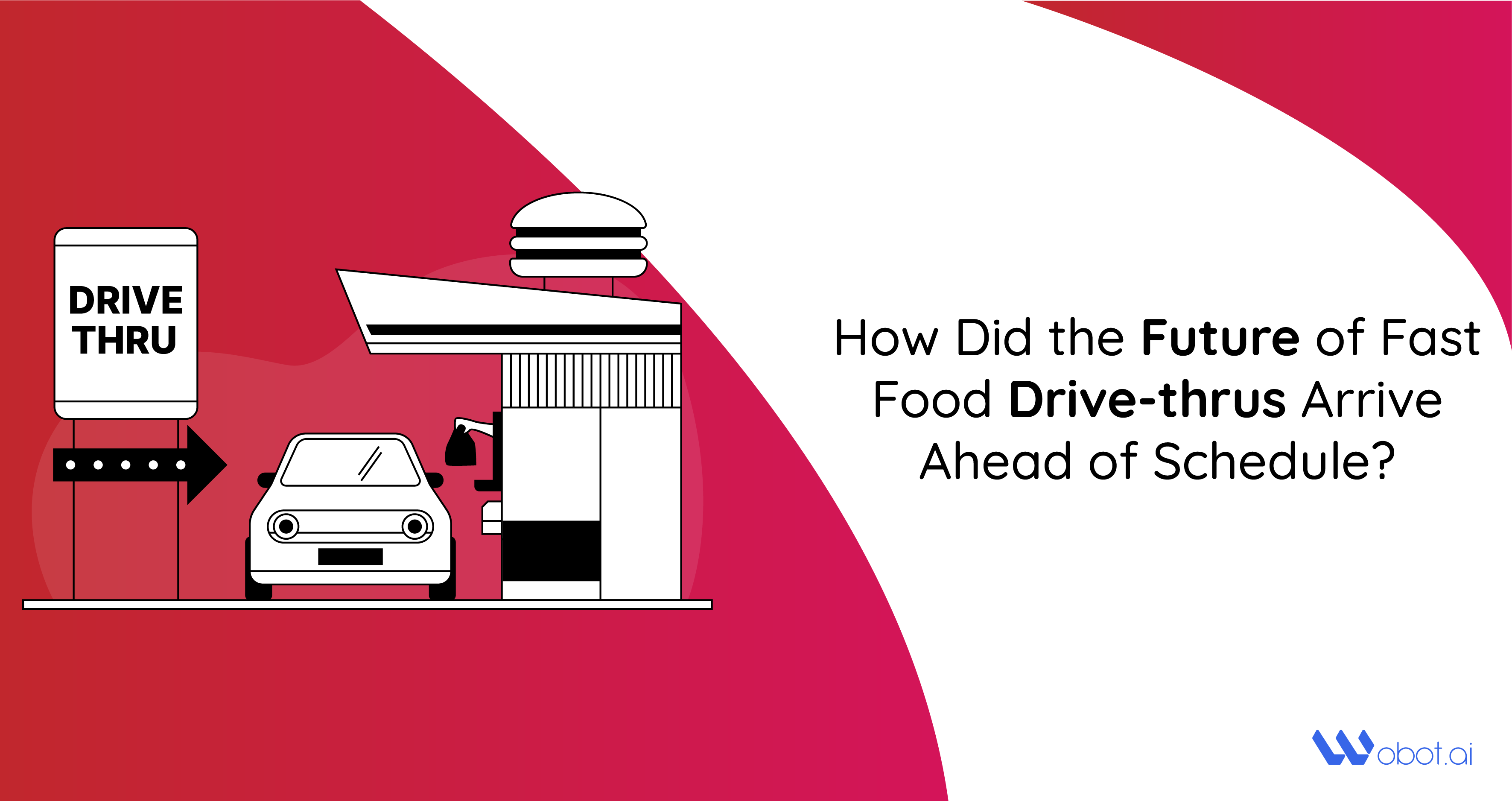 The need to adapt quickly to changing circumstances implies that the future has arrived ahead of schedule, which is precisely what happened in the drive-thru industry. Drive-thru restaurant visits increased by 26 percent in the April-June quarter of 2020 and represented 42 percent of the traffic, as per a study by the NPD group. However, by December, drive-thru lanes represented 44 percent of all off-premise orders industry-wide. Even though other services such as curbside pick up, delivery, virtual brands received some buzz, drive-thrus stood out. For some fast-food chains, drive-thru sales accounted for 70 percent before the pandemic, which went up to 90 percent overnight.
However, what changed between the old and the present times in the drive-thru industry is the vast usage of contactless technology, artificial intelligence, and multiple lane setups. All this made possible as restaurants tried to stay afloat in the wake of Covid's disruption.
What made one fast food restaurant different from the other was no longer only their food. It quickly changed to the speed of service, hospitality, employee and guest safety, security, hygiene, and cleanliness. In addition, brands took Covid as an opportunity to enhance its overall experience by focusing heavily on technology.
In this blog, let's go through the various factors that make drive-thru the primary mode of ordering for guests even when dine-in has partially resumed throughout the world.
What Drive-thrus Achieved Over the Past Year
Over the past two years, many measures have been taken to make the drive-thru experience as enjoyable and humane as possible. After all, for some people, it might be the only person-to-person interaction they had in the entire day because of lockdowns. But, overall, there were a lot of factors determining drive-thru success, especially in the year 2020, that varied across different brands and the approach they took.
Small steps that started making a lot of differences kept coming up. Steps like writing notes on customers' bags, creating outdoor handwashing stations, using bins to collect cash, and many more. However, there were some significant differentiating factors like:
1. Speed of Service
The definition of the speed of service has evolved quite a lot over the years. It isn't so cut-and-dry anymore. People now are only willing to get in a line if they are sure that their experience will be good. This means brands have to try extra hard to provide a good experience while improving their service speed.
For example, QSR magazine's Drive-Thru Restaurant of the Year, 2021, Chick-fil-A, formed a system where customers are greeted and served at multiple stops, from order taking to payment to meal delivery. In addition, to recreate the missing in-store experience, they also started connecting employees to guests in-line. This process enabled the employees to go up to a customer's window, take their order, and relay it to the kitchen, all while maintaining one-on-one service.
2. Order Accuracy
According to the QSR magazine Drive-thru Study, 89 percent of respondents said order accuracy is 'somewhat' or 'most' important to them with their experience. Speed of service was second at 88 percent. As the usage of drive-thru increased, so did customer standards. They started expecting more in terms of order accuracy than they did before. When the respondents were asked their number one reason for choosing a drive-thru, 75 percent said it was 'convenience.'
Therefore, brands started working extra hard to ensure the accuracy of their customers' orders, which helped them perform better amidst all the rising competition.
3. Convenience
Focus in drive-thrus restaurant rapidly shifted to streamlining the flow, so it feels well thought of and constantly moving. Small gestures such as making sure guests' names are used, double-checking their orders, and giving them a fond farewell were becoming a part of the daily routine.
Extra efforts were also put in ensuring that the lines kept moving. As a result, many brands saw their digital and app orders skyrocket as guests started connecting experiences across channels. In addition, it gave customers many options like placing an order before they came for pick up or picking up the order from the curbside.
4. Vehicles in Line
When the shift from dine-in arrived, many brands recognized the need to examine their performance and identify ways to optimize the experience. From a customer perspective, the main goal was to make their experience quick, efficient, and something that meets their needs. However, when it came to the employees, the priority became easing their experience, so the drive-thru lines kept moving during the peak hours.
Taco Bell, the Yum! Brands chain introduced speed lines, which are additional production lines in the back. They also tweaked labor, so more employees were working when business picked up. All this helped manifolds in reducing the vehicles in queues at their various locations.
5. Smart Drive-thrus and Kitchens
The most dramatic shift due to Covid was in the form of reimagining what quick-service restaurants looked like on the other side. The physical footprint of many stores changed. There was a synchronization between digital experiences and the physical stores that focused on streamlining access points.
For example, Taco Bell Go Mobile Design features a dual drive-thru with a priority pickup lane and rapid service for guests who order through Taco Bell's app. In addition, their 'Smart Kitchen' technology integrates with Taco Bell's app and can detect when guests arrive and suggest the quickest route.
6. Ease of Ordering
KFC has devised a way for guests to entirely avoid the drive-thrus by giving them the option of ordering ahead for pickup. Once their food is ready, customers will receive an alert that helps the brand create a connected approach and alleviate drive-thru traffic.
In Bluedot's 'State of What Feed Us' report, when customers were asked what their number 1 want from 'Restaurant of the Future' was, a 'designated drive-thru lane for mobile pickup' topped the list. Customers also highlighted automated car identification as the most desired method for future drive-thru ordering, which will help drive-thru employees know that the customer's car has arrived to pick up the order.
7. Digital Menuboards
There were also some traditional hallmarks of the drive-thrus that went through a complete makeover. Forty percent of diners in Bluedot's study said that a digital menu board to confirm their order is one of the top reasons they would revisit.
To inspire repeat business, quick service and drive-thru had to change a lot when it came to their outdated static menu boards. Digital menu boards were introduced. These menu boards are easier to read due to general display, text size, and lighting and are therefore preferred by the customers. They also create opportunities for upselling or suggestive selling by using AI to generate personalization that people like.
Conclusion
Drive-thru brands are continuously working towards a future prototype and rethinking their physical stores. As a result, a lot has changed over the past two years when we compare the present drive-thrus to the past ones. In the future, brands will continue to scale up, evolve their restaurants, and innovative non-traditional concepts that will unleash growth. Now, the real key is to allow customers to interact with the brands the way they want to instead of hoping that customers will be accommodative to how the brands react.
The past year has shown everyone that drive-thrus are as crucial as ever. There was a renewed focus on throughput, efficiency, accuracy, and friendliness. Earlier brands only had dine-in and pickup windows, but the pandemic acted as a catalyst for growth, and in came more channels like curbside, mobile, and grab-and-go. Focus on using technology to improve the current processes also increased along with heavy investment in people to support productivity and encourage the employees to have fun and stay energized.
In the end, we can say that the future of the drive-thrus will always come down to food quality, positive customer experience, a great team, and fast food done right. If brands can deliver on these things, they are doing it right.
About Wobot.ai
Ensuring Standard Operating Procedures (SOPs) are followed in the day-to-day operations and having real-time visibility into Key Performance Indicators (KPIs) that impact customer experience are of utmost importance to drive-thru and QSRs. Wobot.ai's Video Intelligence empowers food businesses to autonomously look at processes through various checklists across safety, security, hygiene, and customer experience scenarios, all through their existing CCTV cameras. With Wobot.ai, businesses can gain continuous feedback on processes, focus on areas of improvement, and drive operational excellence.
Drive-thrus that deploy Wobot.ai's video intelligence in their premises can reduce wait-time, manage queues efficiently, track customer drive-offs, gets alert on returning customers, improve customer experience, and use data to make critical business decisions.
To learn more about our services, visit https://wobot.ai/drive-thrus-and-qsrs, or write to us at info@wobot.ai.