DVR vs. NVR – Which variant should you choose and why?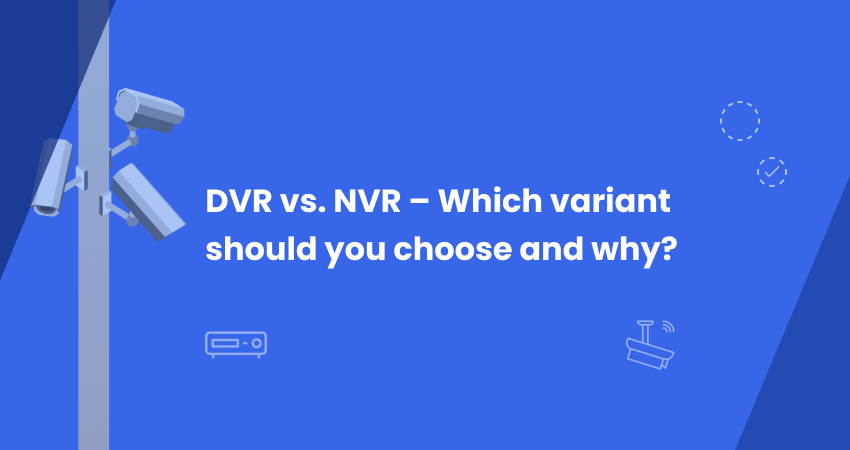 Introduction
Digital solutions like DVR and NVR are developing at lightning speed and while these solutions may have helped businesses to thrive like never before, deciding which one to choose might seem impossible! Let's make that task easier for you!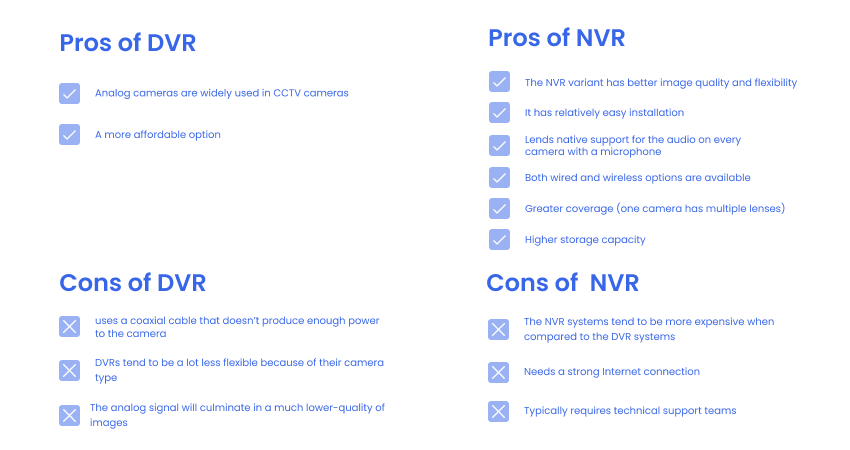 What is a DVR?
DVRs (digital video recorders) come in handy when managing, viewing, and storing CCTV surveillance footage. They make it easy to save and review videos and are available in a wide range of software.
DVR systems are regarded as the older "legacy" alternative and the DVR security system uses analog cameras that are incapable of processing video footage. Analog cameras allow for streaming raw video footage to recorders with the help of coaxial cables - it is from there that the recorder will process the video footage.
Once the video footage has been processed, the DVR systems can be connected to a smartphone or another viewing device, the user can easily access the video footage as and when needed.
Pros of DVR
Analog cameras are widely used in CCTV cameras
A more affordable option
Cons of DVR
The DVR uses a coaxial cable that doesn't produce enough power to the camera which means that the user will need to install the DVR recorder close to a power outlet 
DVRs tend to be a lot less flexible because of their camera type, along with their mounting options
The analog signal will culminate in a much lower-quality of images
What is an NVR?
The NVR system will allow for encoding and processing of the video data at the recorder. This will lead the video data to stream into the NVR recorder whereby it will be used for storage and remote viewing.
The cameras in the NVR system are much more robust when placed in comparison to their DVR counterparts. The NVR security framework primarily comprises IP cameras and are standalone image capturing devices. Such an IP camera will contain a chipset that will process the video data and then transmit it to a recorder.
As opposed to analog cameras, IP cameras can record and then send both that video and audio. Powerful hardware on the IP cameras will mean better functionality and video analytics such as facial recognition.
Pros of NVR
The NVR variant has better image quality and flexibility
It has relatively easy installation
Lends native support for the audio on every camera with a microphone
Both wired and wireless options are available
Greater coverage (one camera has multiple lenses)
Higher storage capacity
Cons of NVR
The NVR systems tend to be more expensive when compared to the DVR systems
Needs a strong Internet connection
Typically requires technical support teams. Without which, you would have no one to assist you with ongoing technical support issues
How does NVR play a role in video intelligence?
NVR has proven to be very compatible with AI-powered video intelligence and video analytics. Video analytics is software that can run on an NVR and with such software, the operator can identify and detect events, features, trends, or patterns by studying the insights produced by the video footage.
Any suspicious behaviors and security vulnerabilities will quickly trigger alerts to the authorities. The operator can connect to their existing security system which will allow for complete network capabilities and will also sync their various data and footage points.
Why Wobot.ai?
Wobot.ai brings you AI–backed video intelligence that would provide better optimization of operations and more streamlined automation for your business operations.
AI-enabled solutions will help any business owner to make more informed decisions and will enable a more customer-centric approach due to the integrated data analysis.
When you have smart security cameras that integrate both Internet of Things (IoT) and AI-driven video analytics, this will mean that operators can keep track of and analyze visitor and employee behavioral patterns.