7 Loss Prevention Techniques for the Modern Food Industry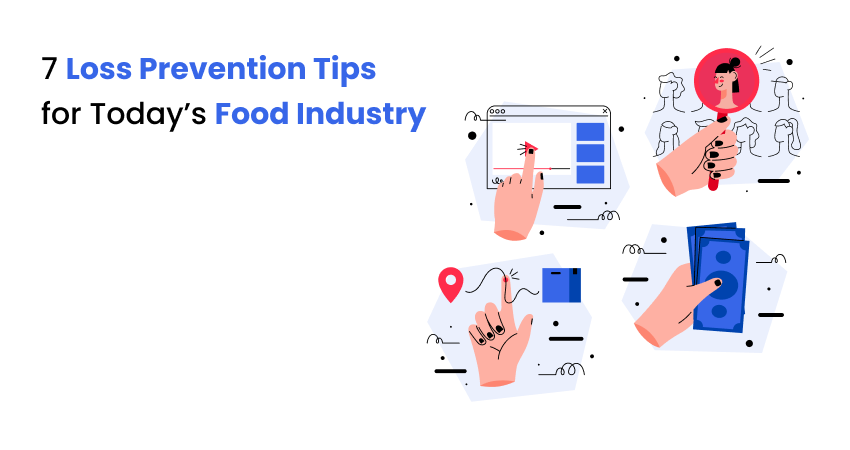 Introduction
In the restaurant industry, businesses can incur substantial revenue losses at various stages. Such losses can occur as a result of unforeseen mishaps or by ill-intent on the employees' part, and while this might be so, it is equally important for businesses to take the necessary measures to avert such incidents. By reading further, you will learn just how major names in the hospitality sector can mitigate their losses and how you can too.
A primary example can be observed in the case of the popular fast-food chain, Taco Bell. In late 2019, Taco Bell was faced with a rather tough decision as their seasoned ground beef that was shipped across the USA was found to contain metal shavings in three individual complaints. Such incidents led to the major food chain recalling all 1,100 tons of the shipment and just as is the case with every competitive restaurant, something as small as insignificant as metal shavings can lead to huge losses. By observing such incidents, it is safe to say that loss prevention in QSRs like Taco Bell only becomes possible when businesses employ the necessary preventive steps. Effective strategies are in abundance, so restaurant businesses will need to decide what methods work best for them as these businesses need industry-specific solutions.
What Is Loss Prevention In Restaurants?
Running a restaurant business is often fraught with many challenges which can manifest in the form of wastage, breakage, theft, fraud, or as was the case with Taco Bell — metal shavings. Needless to say, if these challenges are not resolved effectively and efficiently, then it can have negative repercussions on the businesses in question. Studies demonstrate that an astonishing 75% of restaurant workers admit to theft at the workplace, and loss prevention in restaurants hints at the measures taken by a QSR, drive-thru, fine-diner, or a bar to alleviate losses such as these.
Managing losses are a key aspect to running a successful and profitable restaurant, and indeed quite difficult, as detecting theft may not always be straightforward. With that being said, the nature of the losses can differ depending on the kind of restaurant you're running. For instance, over-pouring for better tips is common in the hospitality sector while food wastage is another liability for restaurant businesses. Interestingly, there is an ever-increasing demand for recommendation systems and restaurants that leverage AI to predict what customers may order in the future based on this historical data. Moreover, AI-powered video security solutions are increasingly employed to detect and prevent thefts and intrusions.
7 Loss Prevention Techniques for the Modern Food Industry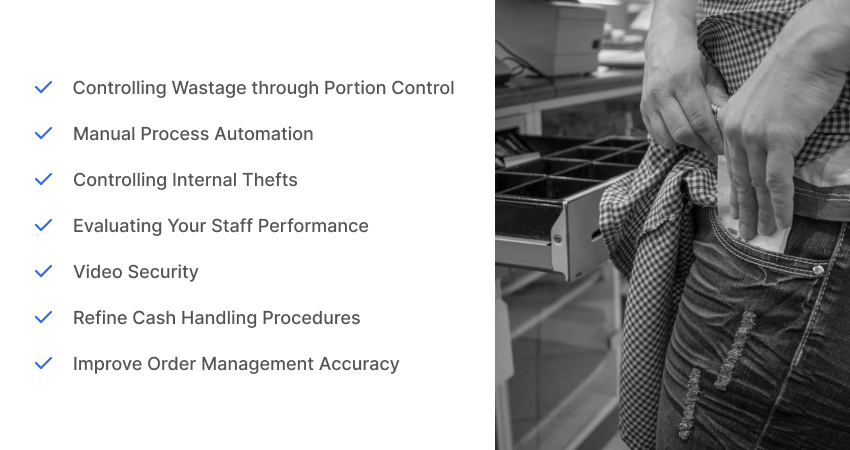 Undoubtedly, restaurants should undertake a proactive approach to loss prevention to detect or deter issues from happening. In the following, you will learn 7 effective techniques that will aid in loss prevention of drive-thrus, restaurants, and bars.
1. Controlling Wastage through Portion Control
Food costs can become exorbitant if you are not mindful about overproduction and serve larger-than-necessary portions. Hence, restaurants should maintain effective processes to control portion sizes to remain profitable. Such a process will include plating the food according to standard recipes. If in doubt, you can ask the chef to have pictures of the final dishes for reference. Moreover, it will also help keep track of spilled or burnt food items or food returned by customers.
2. Manual Process Automation
Taking orders and billing the service has been a manual process for as long as we can remember, which in turn, increases the likelihood of errors. Therefore, it becomes essential for time-competitive restaurant owners to invest in intelligent restaurant management systems that automate everything from ordering to billing. What's more, is that the kitchen will get notified about an order when it's placed or when the customer decides to make changes after it.
3. Controlling Internal Thefts
Statistics illustrate that 95% of restaurant businesses have to tackle instances of employee theft at some level, and one of the primary reasons is a lack of automation and reporting mechanisms. Inadvertently, there are instances where a dishonest staff member alters the number of sales and keeps the difference (cash or inventory) for themselves. Restaurant managers should carry out actionable steps such as screening employees as they hire them, designating roles and responsibilities, and ensuring that their activities don't interfere with others' responsibilities.
4. Evaluating Your Staff Performance
Restaurants should start assessing their staff's performance to ensure they're working on the areas they need to improve. For that, it's imperative that they first establish the KPIs they wish to track. In the long run, this practice will justify their efforts to increase efficiency and, subsequently, revenue.
5. Video Security
For those restaurant businesses that rely on the human element, such establishments should employ video intelligence to keep track of their cash registers and oversee their day-to-day operations. Modern video security solutions even provide alerts to the administrator whenever a suspicious transaction is detected.
6. Refine Cash Handling Procedures
Having a well-rounded cash handling procedure can reduce the chances of cash loss and theft while also saving precious time and improving employee accountability. With a cash handling procedure in place, restaurant owners need not be concerned about human error or theft. The following explains some of these strategies that are known to work:
Redefine cash management as a separate task that includes collecting receipts and cash and reviewing checks.
Limit the number of staff dealing with cash or making deposits.
Ensure that the drop boxes are placed close to the register, and drops are made periodically to limit the fund required for a specific shift.
7. Improve Order Management Accuracy
Food wastage accounts for some of the main reasons why restaurants encounter financial losses, and an effective method for this issue is to improve your inventory's accuracy. This can best be observed in the case of McDonald's when they set up self-ordering kiosks to ensure that their customer base has complete control over their orders and maintain records of their purchases.
Real-World Examples

While theft and wastage are the foremost concerns within the food industry, restaurants can experience monetary loss in several different ways. Here are some examples of how some leading enterprises in the food industry can manage restaurant loss prevention.
El Pollo Loco
A famous restaurant chain specializing in Mexican-style grilled chicken, El Pollo Loco has made a name for itself by merging the premier dining experience common typical in fast-casual restaurants with the ease of a quick-service restaurant (QSR).
To safeguard their people, inventory, and assets, El Pollo Loco depends entirely on a video-enabled intrusion alarm system. The solution not only detects intrusions but also mitigates the cases of false alarms across all their locations. Among the more positive factors of such a system is that the interface is consolidated which means that it works on a well-defined standard protocol, irrespective of the device or the location.
IKEA
IKEA, the famous Swedish DIY furniture behemoth, also has a restaurant section in their stores as they are usually located in the city outskirts. As a result, they serve over 680 million people each year.
According to reports, IKEA has prevented more than 1.4 million kg of food from getting wasted since 2016 as an initiative to reduce food wastage by half across its 463+ global units. This has been made possible given their active efforts to measure every meal. Such an initiative exemplifies just how detrimental food wastage is and that by saving food, businesses can save a great deal of money.
UberEats
The ride-hailing company Uber's food-delivery arm, UberEats, is a colossal force, providing services in 6,000+ cities in 45 countries.
To power its daily operations, UberEats relies on machine learning which provides near-accurate restaurant recommendations and menu items and optimizes deliveries. On the delivery partner's side, it optimizes delivery incentives. And on the merchant's side, it leverages dynamic demand-based pricing to optimize loss prevention in QSRs and other restaurants and, at the same time, reduce food waste.
McDonald's
Optimizing loss prevention in large-scale drive-thrus and QSRs such as McDonald's requires highly coordinated actions from the restaurant management. To tackle loss prevention, the eminent fast-food chain has implemented a multi-tier plan:
Timely reporting: The staff members are expected to remain vigilant in terms of being accurate and on time to report accident claims. Moreover, McDonald's has arrangements with medical practitioners to provide the best care at affordable costs to prevent unforeseen casualties.
Analyzing trends: McDonald's has adopted third-party administrators to analyze risk and determine actionable steps.
Surveillance: The erstwhile surveillance system found at several McDonald's outlets focus chiefly on traditional security issues namely, vandalism and theft. The current security system used by the QSR giant in Denmark keeps track of everything ranging from retail transactions from the POS to even live video footage from the kitchen and cash registers.
How Can Wobot Help?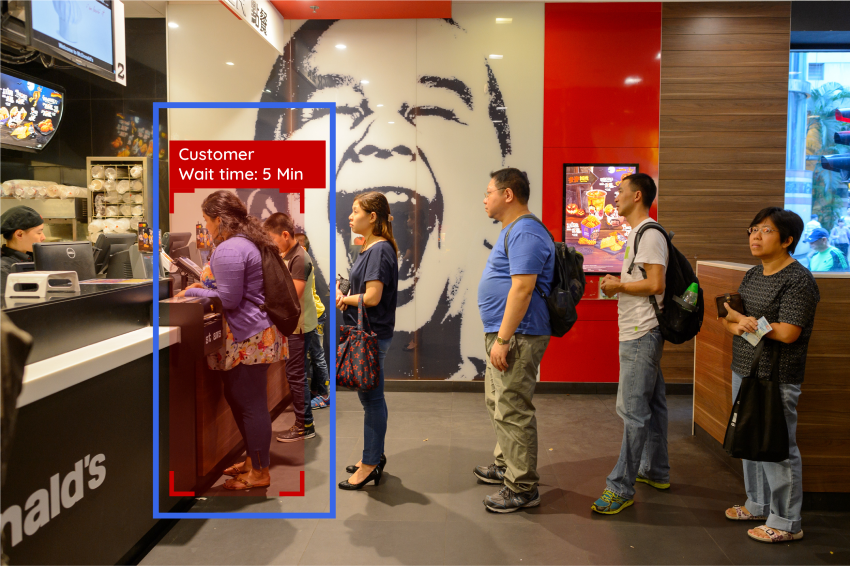 Wobot.ai provides actionable insights using a-powered real-time video intelligence. Look no further because our proprietary technology and visual data can effectively identify insights across a simple dashboard. The best part is that it doesn't have any special requirements—our solution can be paired with any CCTV equipment you may currently have. That implies, irrespective of whether you are in the foodservice, retail, or hospitality sector, you can use our solution at no additional costs for equipment.
WoCam
WoCam allows you to keep track of what's going on in your restaurant properties in real-time and on the go. It's a unified solution for all your cameras and NVRs, and you can rewatch recorded streams at the place of your business.
Checklists
Select your industry, and our AI-powered Checklists will assign tasks to your cameras and even schedule event-based alerts.
Events and Tickets
We offer you a ticketing system that's tailored to your needs. Minimize task violations and stay on top of your industry's best practices.
Analytics
At Wobot.ai, we know that visual data is your biggest asset. And so, we help you leverage it to gain insights and raise the bar of your operations as you go. Our Analytics suite lets you find leaks in your operations, graphical representation of customer traffic on any day, location-based insights, and customer feedback.
Parting Thoughts
Preventing losses in restaurants poses various challenges as no business is immune to certain inconsistencies whether it is unethical employees committing thefts, faking injuries, over-pouring for better tips, etc. As such, running the restaurant and its accompanying activities becomes difficult since you can't always keep an eye on everything happening all the time. This is why it is important to make the best of what digital transformation has to offer.