We are all in this Together – Initiative by Wobot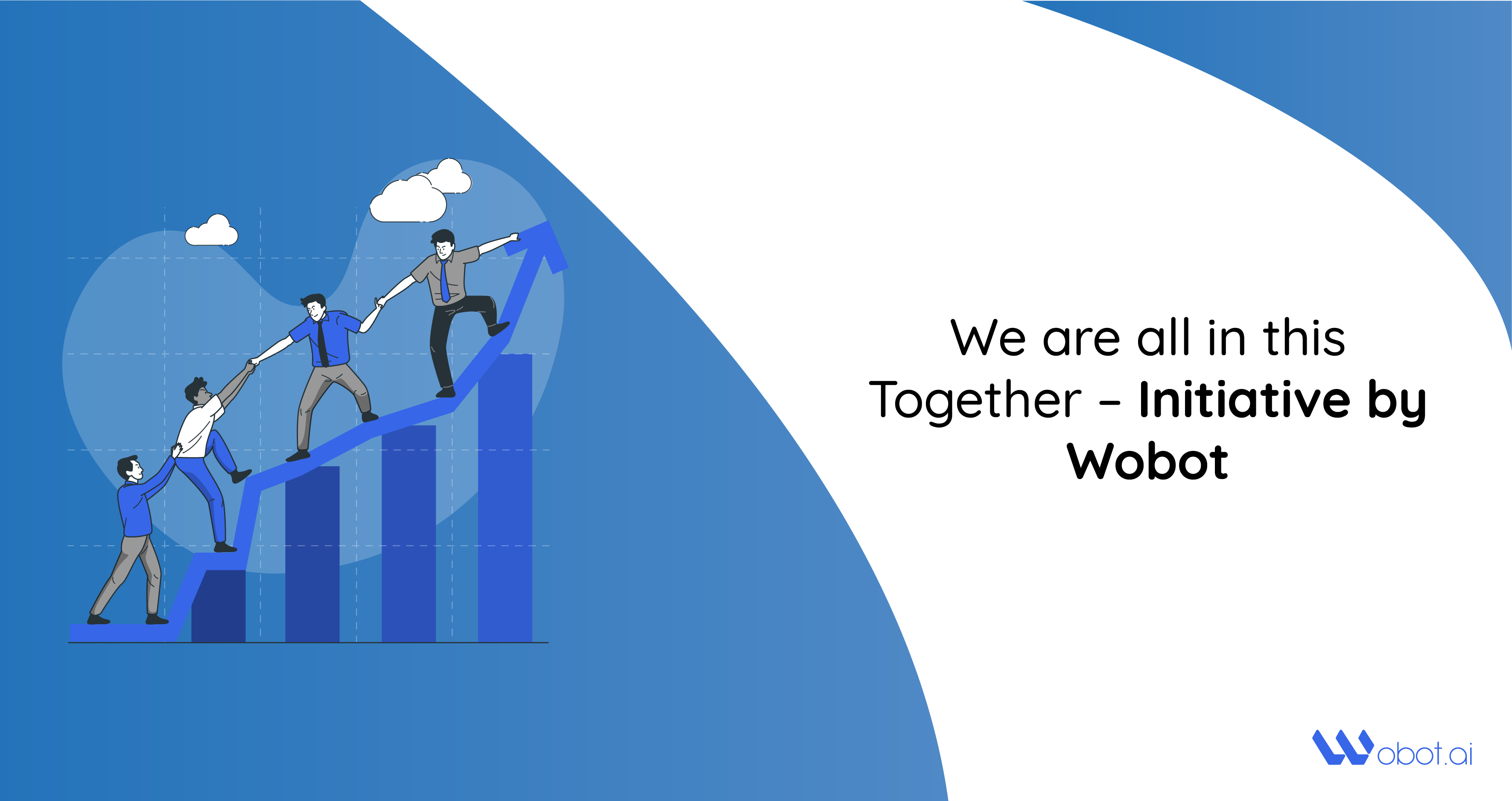 We wish people understand that the brain also works like bones, when the brain breaks down, it needs equal amounts of care and attention.
Since March 2020, we have adapted to "Work from Home". Though this wasn't alien before, this time it was a compulsion. We were in unprecedented times; with MS Teams being the new office; many working in isolation; managing work alongside caring responsibilities; a fast-moving environment; and an overwhelming sense of uncertainty.
As a company, it was our obligation now more than ever, to demonstrate compassion and make time for our people when they need it. Even Though WFH sounds relaxing and makes one dream about pyjama meetings, it comes with a lot of baggage too. These statistics will make you see the other side of the coin:
Over half of the adults (56%) report that worry or stress related to the virus has caused them to experience at least one negative effect on their mental health and wellbeing. Since they are confined to a smaller space, the stress is consuming them faster than our speed of gulping down a jar of Nutella.
Four in ten (42%) adults say that either they or their spouse/partner experienced a job loss or a cut in salary due to COVID-19. This has only added to their worries about their future and financial stability.
During the lockdown and after the work at home regime started, we took a strong initiative towards the mental well-being of our team members. While hiring, we ask our future rockstars all about their likes, dislikes, family background, right down to the preference for food. No, we aren't being nosy, we just want to know more about the new members of our growing family.
Also, after we evaluated the data during the lockdown, we found out that many are stuck without their families or even alone in their apartments during this stressful pandemic. So, our initiatives revolved around giving them company for a start. We started events like:
Have you got a game? – The whole organization comes together on Friday to show their gaming skills. Right from FIFA2020 discussions to a competitive game of Tambola, everything is done and enjoyed. And if that's not all, the HR team offers amazing winning prizes to bring out the MONICA (F.R.I.E.N.D.S reference) in you.2.
When Not Working – It is a thought wall created for the entertainment of employees. Here people wish each other on their special days or even when someone achieves something personal or professional. Most of all, it is used to share memes because, at the end of the day, it is us millennials working together.
What you got there? – Here, we have established a virtual lunch hour where everyone gathers with their plate of delicacies and has lunch together. It is a special one for those living alone and missing their work BFFs.
The cup of Joe – If coffee wasn't discovered, we all would have deleted Mondays out of our calendar. But a coffee session with work friends is one of the most missed activities during work from home. That's why we also have a virtual coffee gossip session for our employees.
Age is just a number – We make sure that big occasions like birthdays and anniversaries are remembered and celebrated. All it takes is a virtual meeting with a comically fun background because age will always be just a number.
SAY WHAAATTTT – We have get-togethers on Fridays' known as TOWNHALLs. A weekly chit chat about – How you doing! Did you watch the game last night? The employees are also used to sharing heartwarming discoveries like a new diet plan, a new adventure in the kitchen, or a serious discussion about the age-old question "How did Sherlock fake his death?" Events like a magic show and comedy night are also organized. More than once, a team leader is found saying WHAT REALLY… After knowing what a gem their teammate is.
PLEASE MIND-IT BRO – We took a collaborative step with "Mindhouse", a gym for your mind. It gave all our employees a subscription to their stress-relieving meditation courses. So the next time any employee binge-watches a show like 'Chernobyl', they know which app to open up next. 90 percent of the employees, after using Mindhouse, felt like Po from Kung Fu Panda.
This is how our employees felt before and after the use of Mindhouse:
55% of employees downloaded the app because they wanted to have a better focus with a relaxed mind. The sessions with trained professionals helped them faster than a chilled margarita does.
20% of them had trouble sleeping because of the lockdown and confinement in the house for more than 2 months.
18% of employees joined the app to improve on their patience level as anxiety is one of the traits that were rising during the lockdown. Almost 100 percent of the employees found it useful.
Even all this would not feel enough because good mental health needs regular check-ins by your close ones. Keeping a constant communication with everyone was critical. We would come up with random tips.