VMS vs. Video Intelligence – what works better for your business?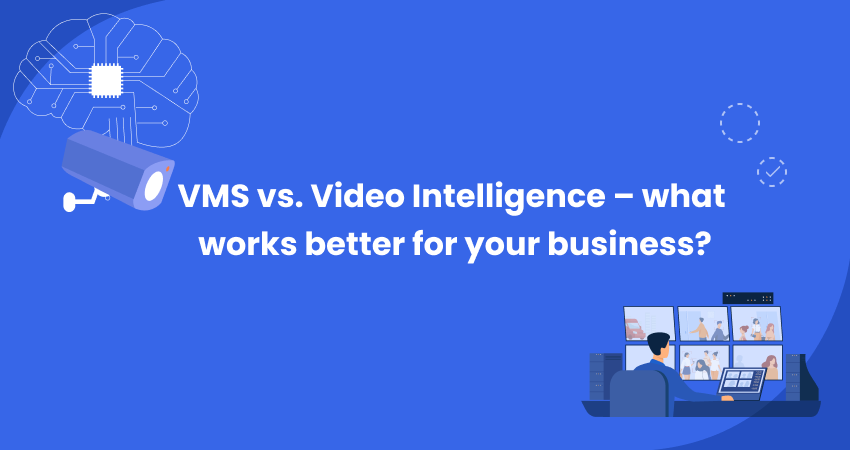 Introduction
Ever wonder how any business could survive without technology? While so many businesses spend obscene amounts of money on video and security infrastructure, deciding which digital solution to adopt can seem like a mammoth task!
What is VMS?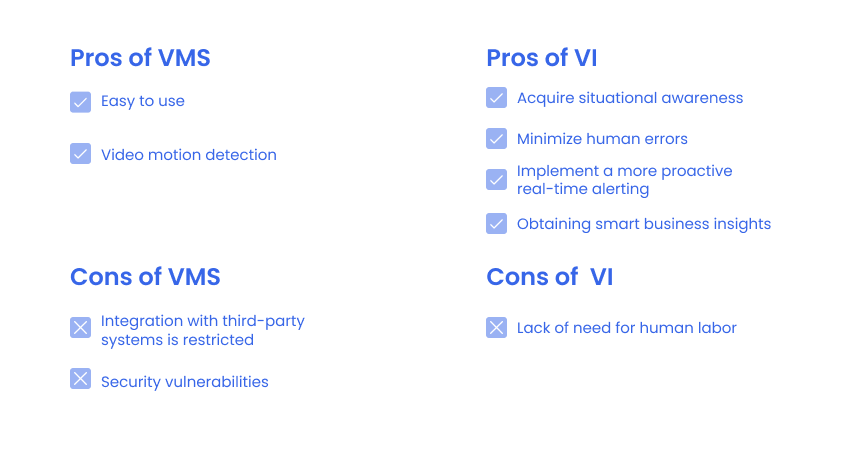 A VMS can best be described as a part of a video surveillance system that enables users to access real-time videos for storage, recording, and playback of recorded videos.
Among the more prominent features of VMS includes video and audio recordings, scheduling the recordings, camera management and administration, search options and playback, video streaming from multiple cameras, and user access control and activity (audit) logging.
Pros of VMS
Easy to use: If digital systems need experienced security professionals to be formally trained to use them then they might not be easy to use at all.
Video motion detection
If the VMS platform is equipped with motion detection, then not only would the camera images be recorded but the recording, too, will be activated, and alerts/alarms can be raised if there is a motion in the picture.
Cons of VMS
Integration with third-party systems is restricted
Typically, VMS devices come with patents that have limited flexibility in integrating them with a third-party system.
Security vulnerabilities
VMS can come under attack by hackers or other cyber criminals, especially during installation.
What is video intelligence?
Video intelligence is an artificial intelligence-backed technology that provides a wide spectrum of analytic capabilities to improve video security systems, thereby enabling users to leverage existing video surveillance investments to: -
Search and filter through large quantities of footage to be able to gather actionable insights
Send real-time alerts to increase situational awareness and push for quicker response time as emergencies or vulnerabilities emerge
Quantify and assess video data and leveraging metrics for planning, development, and operations optimization
Pros of Video Intelligence
Acquire situational awareness. As a human operator, you can schedule automated video processing at any given point and the video data will be ready when you need it.
Minimize human errors
Video intelligence can help to foster immense economic growth for a business by reducing human errors and improving accuracy and human efficiency.
Implement a more proactive real-time alerting
Many businesses use video intelligence for real-time features but not all alerting instructions are relevant for all scenarios.
Obtaining smart business insights: when video intelligence is aggregated with time, it can be used to amplify business intelligence dashboards, reports, and heatmaps.
Cons of video intelligence
Lack of need for human labor
There are many instances wherein video intelligence is eroding people's occupations which might contribute to unemployment.
Which platform works best for your business?
With all the advantages associated with video intelligence, it becomes increasingly apparent that video intelligence is the way to go.
By leveraging AI-powered video intelligence, you can effectively keep track of actions, people, and events that might affect your business, and what's best about it is that it can be connected to your existing security camera which will not only provide high-quality video capabilities but audio capabilities as well.
Why Wobot.ai?
Wobot.ai brings you AI–backed video intelligence that would provide better optimization of operations and more streamlined automation for your business operations. AI-enabled solutions will help any business owner to make more informed decisions and will enable a more customer-centric approach due to the integrated data analysis. When you have smart security cameras that integrate both internet of Things (IoT) and AI-driven video analytics, this will mean that operators can keep track of and analyze visitor and employee behavioral patterns.