Video Intelligence Has Transformed the Restaurant Industry. Here's How.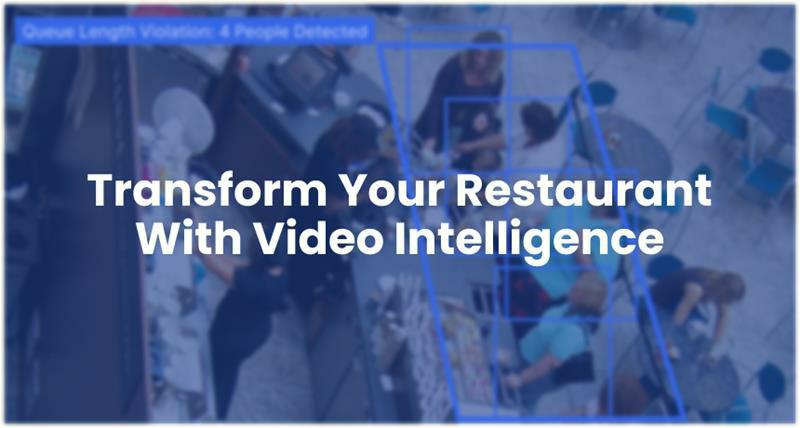 Imagine this: your restaurant's operations are a huge water tank and there are several holes in your water tank, these holes are your sunk costs and operational inefficiencies. Video intelligence can help identify and mitigate these operational inefficiencies, ultimately helping you save both time and money.
From loss prevention to food safety and improved customer experience, video intelligence has been making more evident impacts in the restaurant industry. To strive and thrive in today's competitive market, restaurants must take an AI-first approach in vision and execution. If cognitive technologies like video intelligence are fully integrated with restaurant operations, restaurants can offer highly personalized solutions to customers and get ahead of impending risks such as food safety and operational losses.
In this blog, we will discuss the various ways in which video intelligence has transformed the restaurant industry and why it is smart for restaurants to embrace video intelligence now.
What is Video Intelligence?
Video intelligence is a technology that processes CCTV footage to identify, document, and distribute insights to business stakeholders. Video intelligence not only helps in security and surveillance but can also help identify and mitigate other operational bottlenecks. Restaurants have used video intelligence to enhance food safety compliance, help in loss prevention and improve customer experience.
Why Do Restaurants Need Video Intelligence?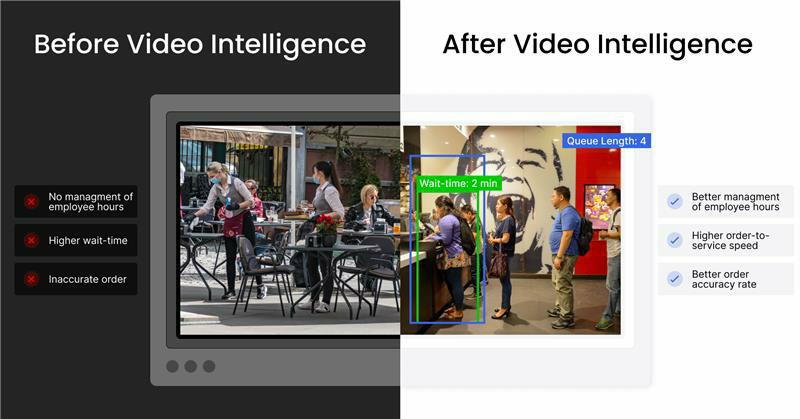 Digital tools and solutions have become part of business and one simply cannot ignore the innumerable advantages associated with it, particularly if it is with respect to the restaurant industry. Digital tools, namely AI, are found to streamline just about every aspect of the restaurant enterprise ranging from the ordering to the food preparation and even the delivery process. Therefore, AI-powered solutions serve as an ideal recourse for both the business owners and customers alike as AI will ensure desirable customer experience for the customer all while improving sales and customer retention for the restaurant business
Video intelligence will optimize the growth of the restaurant industry, given that it can alleviate the chances of theft, employee incompetency, mismanagement of food preparation, among others. Once a video surveillance system is installed, it will maintain accurate records of the restaurant environment that are captured in real-time. Moreover, video analytics can ensure effective and timely food operations both in terms of preparation and subsequent delivery. As such, video intelligence can help identify peak time, traffic, and how your staff should be positioned in the restaurant settings.
When armed with such strategies, one can easily identify the unique patterns at every restaurant which also includes key performance metrics. These well-oiled strategies will bring many positive strides in the overall decorum, efficiency, and credibility of your restaurant.
10 Ways in Which Video Intelligence has transformed the restaurant industry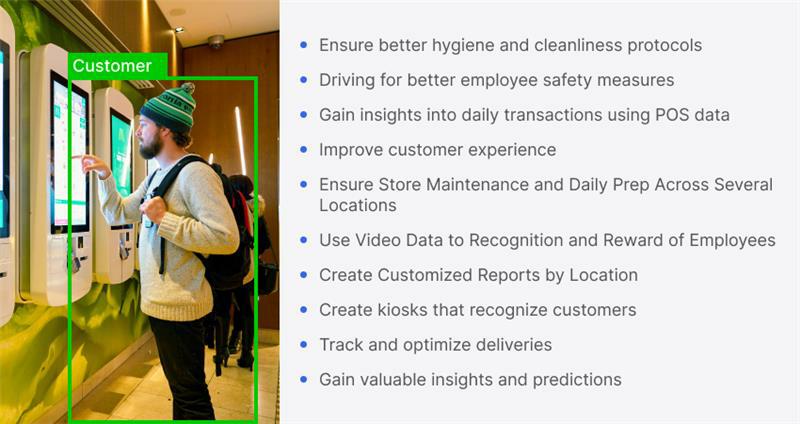 The integration of video intelligence has already become quite prominent in the transformations of restaurants through AI and machine learning algorithms. With video-driven analytics, restaurant businesses can be assured of improvements in their operating procedures. Such improvements can often be observed in the forms of quicker table turnaround time, elimination of long lines and waiting times, the creation of customized reports based on that location, employee, etc. Video intelligence can help restaurants in innumerable ways, including helping you:
Ensure better hygiene and cleanliness protocols: Video intelligence driven solutions hold strong importance, especially in terms of protecting employees/consumers from potential health hazards and preventing food from contamination. As such, one of the main goals of video analytics is to augment hygiene and cleanliness protocols to prevent the outbreak of diseases and such measures can be fruitful if all equipment and machinery involved in the production process is kept clean. Among the other critical factors to take into account are the personnel hygiene and cleanliness standards of the staff members. Employees should wear clean clothing, hairnets, disposable gloves, as well as avoid wearing any jewelry/ornaments when present in the kitchen during the food production process. They should also make it a point to regularly wash/sanitize their hands and change into a fresh uniform after every shift. With the help of AI, a restaurant business can easily leverage objects and facial recognition technologies to ensure hygiene and cleanliness procedures are being followed.
Driving for better employee safety measures: Employee safety is of utmost importance and among the ways in which a restaurant business can tackle safety related matters is by implementing an efficient fire safety procedure. A fire might result in a massive loss of lives and severe damage to property. Fire hazards can also sometimes be caused by power failures, hot equipment, cooking oil spillage, etc. Commercial kitchens may employ different fire protection measures, but none can be more important than having a suitable fire extinguisher. The extinguishers play a significant role in containing the kitchen fires and keep them from spreading throughout the restaurant. However, one has to ensure that you place the device in an area away from the stove and other cooking equipment to prevent the flames from reaching it. But even with the distance, always place the extinguisher in any kitchen area with easy access.
There are AI driven models that can identify smoke and fire and then AI models will process video streams with the help of computer vision. Once the smoke or fire is detected, AI will trigger alerts with images and location to first responders
Gain insights into daily transactions using POS data: Video footage from your NVRs can be integrated into your POS (point-of-sale) system which is merged to deliver live and recorded video from your surveillance cameras, along with transaction reports. POS solutions will study the existing videos of the restaurant operations to gain a better understanding of regular transactions, operational patterns and employee/customer behavior. This, in turn, will allow for video analytics to keep track of people counting, queue lengths, and wait times. All of these factors combined make it much easier to keep a close watch on sales, identify trends, compare restaurant performance, and also remain alert for any suspicious/fraudulent activity that might end up costing the restaurant a great deal of money. Integration of video intelligence with existing POS systems can even help restaurants prevent employee theft and help in loss prevention.
Improve customer experience: Uniformity in food quality, speed of service and ambiance across various locations of a restaurant chain can help improve customer experience. Customer experience is at the heart of all restaurant activities. Read our blog on customer experience to learn ways to use video intelligence to enhance customer experience. Effectively, AI-driven video intelligence will ensure consistency and systematic workflows across locations and can even help to create internal benchmarks for different outlets of these fast-food chains. Once these internal benchmarks have been set, individual franchise owners can use such video intelligence to make improvements in their respective outlets and boost individual store sales.
Ensure Store Maintenance and Daily Prep Across Several Locations: The use of video surveillance can be fine-tuned to recognize the associated metrics so that managers can easily maintain records of the store and employee management. Additionally, real-time updates of daily preparation and if the customer is handled correctly can be subsumed within a fraction of seconds. This provides spatial flexibility as this information can be easily accessed online.
Use Video Data to Recognition and Reward of Employees: In the restaurant business, employee satisfaction only becomes heightened when their hard work and dedication are acknowledged. Such positive reinforcement can boost the growth of the business and especially so when the employees interact with the customers well. As such, it becomes important that the needs of the employees are being met. Here, video intelligence is not only limited to performing tasks but also recognizing the impact of employee behavior. Recognizing the employees' efforts and relaying positive feedback for excellent performances can boost your restaurant business to new heights.
Create Customized Reports by Location: If one owns a chain of restaurants, then it is quite evident that maintaining a close analysis of all of those restaurants becomes challenging. In such circumstances, video data can provide insights into the various levels of management. These data videos are employed to create customized reports with updates about the location of your restaurants, and employees. Such data aids in the identification of unique patterns of the restaurants and also the performance metrics.
Create kiosks that recognize customers: When a regular customer is paying a visit to their favorite restaurant, it is likely that they already know what they would like to order whether that is lunch, dinner, or even the coffee that they prefer. However, ordering your preferred item on the menu can mean waiting in line and sometimes for a prolonged period, especially amid peak hours. One way to curb this glitch is with the help of kiosks. Kiosks employee cameras will instantly recognize regular customers and will proceed to enable self-order capabilities. Such features are possible due to the records of the customers' order history and facial recognition. It is worth noting that successful chain restaurants such as Wow Bao and BurgerFi are already reaping the benefits of these features.
Track and optimize deliveries: An exponential rise in demand for home deliveries calls for optimized delivery routes to ensure a speedy and adequate delivery service. One has to chart out the easiest route to ensure speed, efficiency, and food quality. As such, delivery mapping tools can help track the location of the driver's progress, analyze the traffic situation and predict the most favorable route with live feedback to the customers.
Gain valuable insights and predictions: the ultimate objective is to make the transition towards a data-driven framework. A lack of proper data without adequate inference may not bode well in the long term. Substantial data has to be accessed and analyzed closely for it to work in your favor and to be able to yield good results. Such data can provide insights based on the needs and preferences of your customer and accordingly also predict customer behavior. When you have forecasting and predictive abilities of video intelligence systems, it can upscale your revenue by analyzing your nearby events. Invariably, modern AI makes understanding your customer not only possible but also manageable.
Conclusion
The food industry with the use of AI and other machine learning algorithms is undergoing rapid transformation. McKinsey reports that the industry will reach $100 billion globally over the next five years. AI will be the next game-changer, be it customizing meal plans exclusively for you, or maintaining employee records, its use is widespread. AI is gradually moving towards assisting in finding the right balance for every aspect.
Want to learn more about Wobot.ai and how it can help your restaurant? Click here to book a demo with us!