The Ultimate Guide to Standard Operating Procedures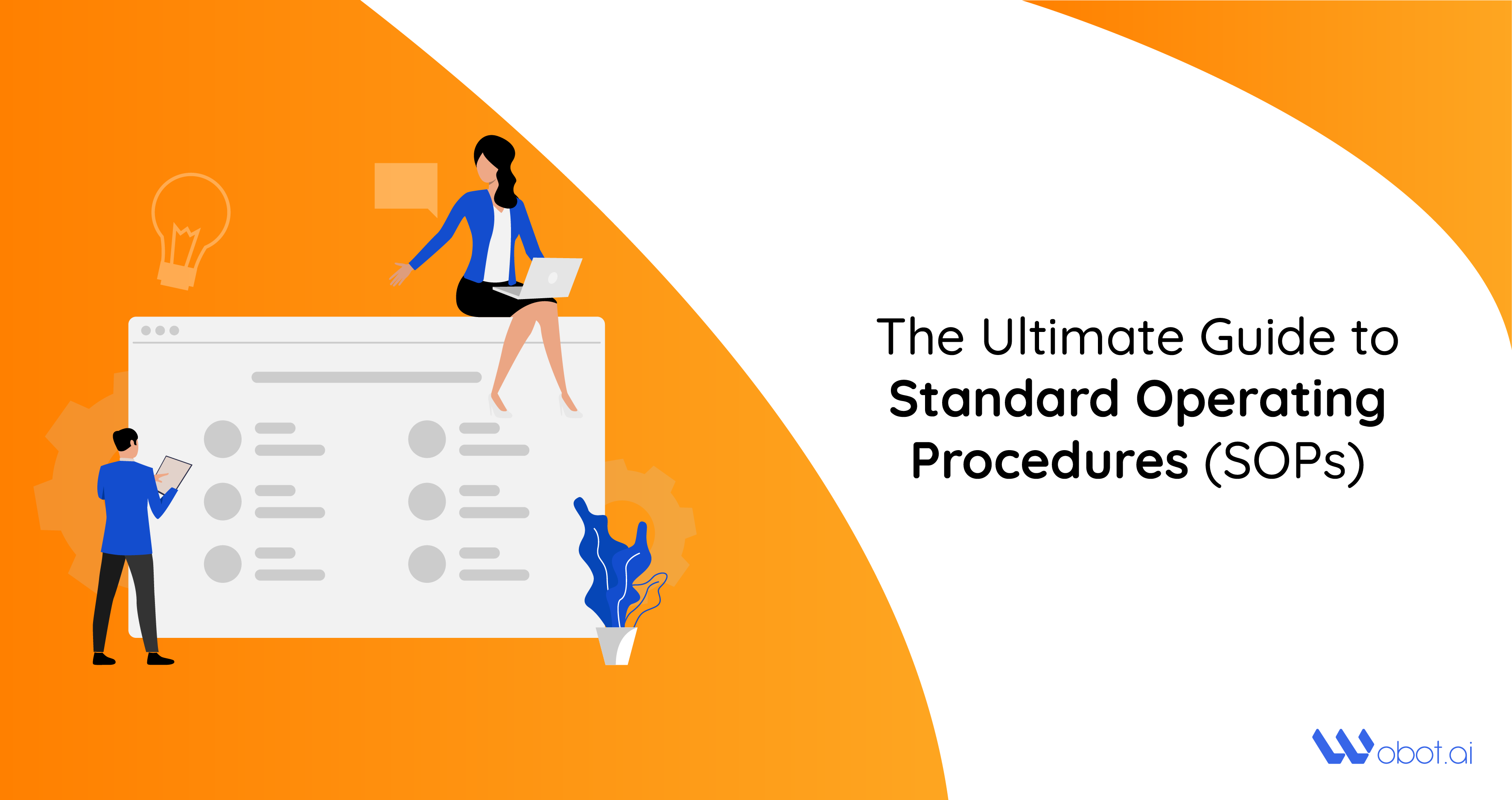 They say starting a business is easy; running it successfully is what matters. Isn't it absolutely on point? Keeping your business in shape requires standardized operations that help you keep it running like a well-oiled machine. These standardized processes are known as Standard Operating Procedures or, more commonly SOPs.
In this blog post, let's shed some light on what SOPs are and how companies can make the most by developing and implementing them correctly.
What are Standard Operating Procedures?
Standard Operating Procedures (SOPs) are documented assets of a company or organization that give new and current stakeholders an idea of how a task should be performed.
SOPs also help employees do routine tasks with consistency and quality to ensure improved efficiency. Usually, SOPs are step-by-step instructions given to help perform a regular operation seamlessly and consistently. SOPs also ensure uniformity across processes without miscommunication and ambiguity.
Developing and executing these SOPs play a crucial role in business success. Creating and implementing them can vary from business to business, considering their unique requirements. However, there are a few types of SOPs that companies follow. They are:
Checklists: Standardized patterns of points are represented in a checklist style that employees should follow while doing a task and mark as complete once done.
Step-by-step Guides: A detailed version of SOPs would describe each stage in the task step-by-step to help employees understand each step in detail.
Hierarchical SOPs: This is useful when your company has complex operations, and more information is required to explain all steps accurately. For example, you can create hierarchical SOPs dedicated to a specific designation. For an employee in the leadership group, the document would say, "Log in to the portal and enter your unique admin password."
Flowcharts: Primarily used in many business process management (BPM) tools, flowcharts are one of the best ways to represent SOPs. It offers a better understanding of what employees are doing and makes it easy to consume.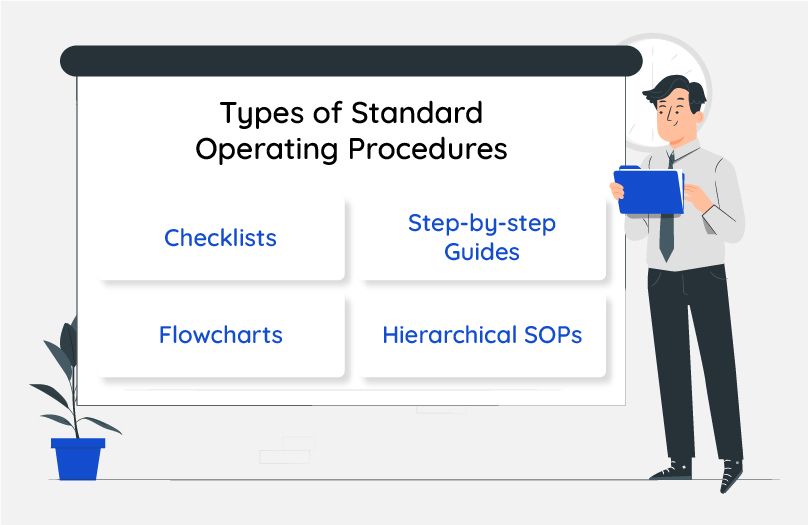 Importance of Having SOPs
Standard Operating Procedures can make or break your business. Of course, one can find it easier to start operations verbally without documenting them. Yet, it is a different ball game to maintain consistency while running those operations in the longer run.
That's where documenting SOPs help you. It gives a clear understating to all stakeholders of your company into your operations and how they should be performed with 100% accuracy.
Having SOPs do offer other essential benefits. Let's dig deeper into such advantages.
Benefits of Maintaining Standard Operating Procedures
Save Time
One of the most critical factors SOPs do is lay a framework for performing a task. When you don't have a specific pattern laid out, many of your employees end up doing the same job in multiple ways and may take a longer time to finish that.
Creating SOPs saves a lot of time and helps employees concentrate their energy on the task at hand in a better way.
Improve Communication
Miscommunications are part and parcel of the collaborative environment. For instance, more than 57% of employees have said that they don't get clear direction from the leadership team. Therefore, documenting them is essential.
There are fewer chances of miscommunication when a task is already written and handed over to the employee. The leadership team can also save time by not focusing on a granular level as addressed already in the SOPs.
Increase Consistency and Productivity
When all employees follow a sure way to accomplish a task, the leadership team can ensure consistency across operations with a smooth workflow. It also brings in the sense of togetherness in employees as they work uniformly, resulting in increased productivity.
Offer In-depth Guidance
SOPs do an excellent job of guiding new and existing employees to complete the tasks successfully. Even though the employee is unique and exposed to an unfamiliar environment, they can acclimatize quickly with the help of SOPs and ensure work is done efficiently.
Ensure Accountability
Having SOPs also help the leadership team assess the performance of employees. When employees work together in the same manner, it becomes easy to retrieve data and track performance. This data is helpful to make informed decisions instead of giving personal opinions on employees' performance.
The Role of AI in Maintaining Standard Operating Procedures
Artificial intelligence (AI) is an ever-evolving concept. Its enormous development has made it flexible and executable in areas beyond technology.
With the help of AI-ML functionalities, it is easier to train a system to make its own decisions based on the data provided and adapting to the situation at hand.
While SOPs are created and executed in companies, business owners struggle with measuring their implementation regularly. That's where artificial intelligence can help. With a product like Wobot.ai, businesses can track whether existing SOPs are implemented and followed using their existing CCTV infrastructure.
This allows business owners to get automated alerts while an operation is being performed and trigger a ticket. With the help of these tickets, they can execute corrective measures to improve better implementation of SOPs.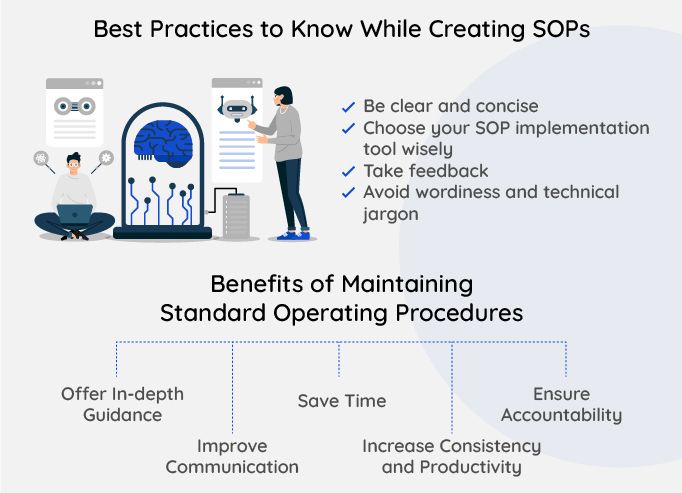 Best Practices to Know While Creating Standard Operating Procedures
Clarity Matters
While SOPs are highly text-rich, they need to be written with-in easily understandable language. Avoiding wordiness and technical jargons may make the SOP hard to understand and remember for employees.
Choose your SOP Implementation Tool Wisely
While numerous SOP tools are available in the market, choosing one that fits your business requirements well is critical. In addition, having a tool that allows you to write, store, access, and track all SOPs from one single platform can help you in the longer run.
Tools like Wobot.ai, help businesses implement standard operating procedures using artificial intelligence by adding a layer on top of your CCTV camera footage.
Take Feedback
Writing SOPs is not a one-person job. There must be active participation of multiple persons who have inside information into business operations and how better they can be performed. This is why taking feedback from numerous people is essential to address all the nitty-gritty involved.
Avoid Making SOPs Too Lengthy
Short but rightly described SOPs are what employees look for. Avoid making them longer with unnecessary information and focus more on how a specific task should be performed when it comes to writing SOPs
Conclusion
Standard Operating Procedures (SOPs) are essential when it comes to running business operations smoothly. They help employees to finish a specific task within allocated time and accuracy.
Writing SOPs and executing them well should be a goal for every business owner. However, measuring how these SOPs are being implemented and followed is even more critical. Using modern tools driven by artificial intelligence to measure SOP implementation can help you run operations smoother and open doors to business growth.