On the menu: A customized workplace safety plan for Mod Pizza
Consider the following incidents:
17 McDonald's workers from Chicago sued the company for failure to address violence in the workplace.
A New Jersey woman sued Dunkin' Donuts after she sustained severe burns from spilling several hot cups of coffee on her lap while collecting her order at a drive-thru window.
Health and safety incidents can cost your business a fortune each year. Yet, there is a blithe lack of awareness about how much time and money can be lost due to the lack of workplace safety.
Every time there is a slip and fall incident or someone gets injured, you are at the risk of being sued or providing compensation for the medical bills, out-pocket expenses, lost wages, and pain and suffering. Not only do you face the risk of being sued, but may also lose 30 days' worth of operational time over an employee who is injured due to poor safety measures at the workplace.
How can Wobot's Video Intelligence help Mod Pizza maintain better workplace safety?
Video intelligence acts as a hub to manage and control your operations on a single user-friendly dashboard. Wobot's A.I. checklists make it easier for you to automate tasks and deliver real-time insights if any violation has occurred. Video intelligence not only helps prevent an accident before it happens, but also helps you save video clips of slip and fall incidents or other injuries to avoid bogus or false claims.
Wobot.ai offers over 200 use cases and delivers real-time business insights that can help mitigate gaps in employee safety.
Some of our most sought-after use cases for ensuring employee safety include: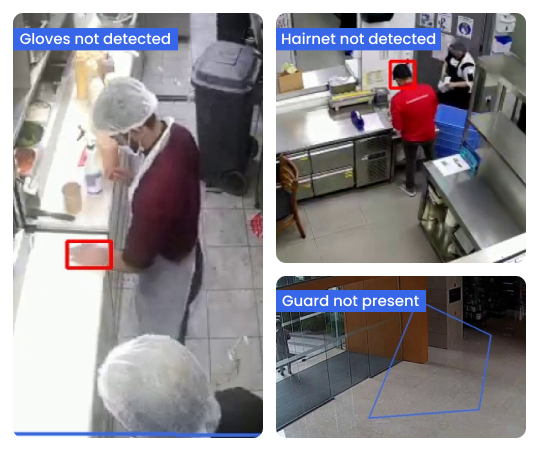 Slip and fall detection
Lighting Levels Detection
Gloves Compliance
Fire Detection
Crowd Detection
Hairnet Compliance
Critical Equipment Left On - Unattended for X seconds
Guard not Present
Fire Extinguisher Detection
Equipment On + Exhaust Fan On
Aisles and Passageway kept Clear
In a Schedule - Machine On/Off
Accidents at the workplace will always cost you more than the intermittent expenditures to ensure a safer environment for employees and customers alike.
Click here to determine how much money you can save by ensuring employee safety with Wobot.ai.

. . .