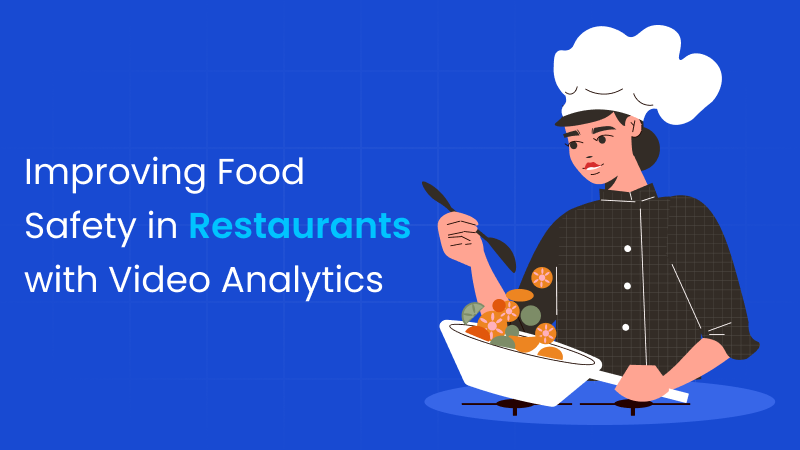 Introduction
Maintaining proper hygiene and cleanliness is paramount for a restaurant. It helps in building trust with the customer. Trust is one of the most essential social currencies. If the customers trust your brand, they will become your repeat customers and might also bring in new customers. So, overall, it will have a net positive effect on your business, in fact, in a survey conducted recently, customers said that they are willing to spend 2x on a restaurant that is more hygienic.
Every restaurant follows some SOPs related to food safety or hygiene. They are usually monitored manually. Maintaining high accuracy with manual monitoring is challenging as these tasks are prone to human error. Switching to a Video Analytics based solution can help in mitigating these issues. In addition to strict adherence to SOPs, you can also understand the impact of Food Safety on your business.
Improving Food Safety in Restaurants with Video Analytics
Wobot provides cutting-edge video analytics solutions to improve the safety index of your restaurant. We will discuss some of the use cases here.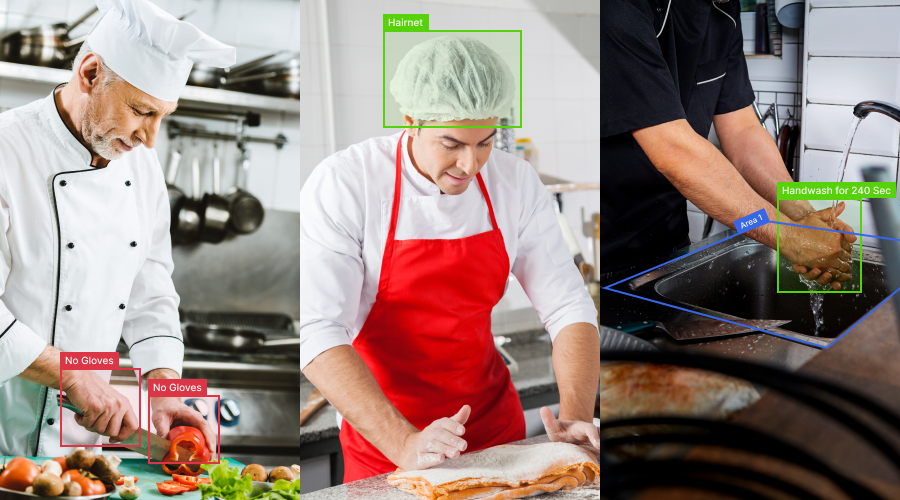 Kitchen Gloves Detection - Wearing gloves is essential to maintain good hygiene standards. However, this is something that people might not always follow and going to the kitchen and manually checking each and every person is an ineffective approach. Instead, you can deploy our Kitchen Gloves use case and get alerts in real-time, in case of a violation.
Hairnet Detection - The absence of hairnet increases the risk of hair strands falling into the food. So, hairnets are essential to ensure that the food is prepared safely. With our hairnet detection use case, you can do just that. It will send real-time alerts, in case of a violation.
Hand Wash Detection - Frequent hand washing is essential for minimizing the risks of any infection or disease. It is even more important that your restaurant staff follow this procedure so that they don't adversely affect the health of others. With our hand wash detection use case, you can monitor how many employees are following the guidelines. You will also get a real-time notification, in case there is a violation.
Using a cutting-edge solution to ensure food safety will help you build a culture that is centered around safety and hygiene. It will signal to your employees that you value hygiene and are ready to go the extra mile. In addition to that, the overall customer experience will also improve.
Recently, a popular Fast Food chain's customer fell violently ill after eating food laced with rat poison. This could have been avoided with the attention to detail in the kitchen that is provided and achieved through Video AI.
You can use our state-of-the-art data analytics solution to gather insights about your business. These insights can help you in analyzing the level of adherence that your employees follow towards safety and hygiene.
Hygiene and cleanliness are extremely important for any restaurant to survive and thrive. The current paradigm of manual monitoring is obsolete and it is time to shift the paradigm towards AI-powered Video Analytics.
Maintaining food safety is important for proper functioning of a restaurant. It ensures good food quality and less wastage. Restaurants around the world follow some SOPs to ensure food safety. These SOPs are usually manually reviewed, so they are prone to human error. A better alternative would be to switch to Video Analytics for real-time updates and efficient monitoring.
Use cases catering to Food Safety
At Wobot, we provide state-of-the-art Video Analytics solution to ensure Food Safety. We send real-time updates, in case of a violation. Our dashboard provides analytics to streamline your decision-making process. We have an array of use cases catering to Food Safety. We will discuss some of them here.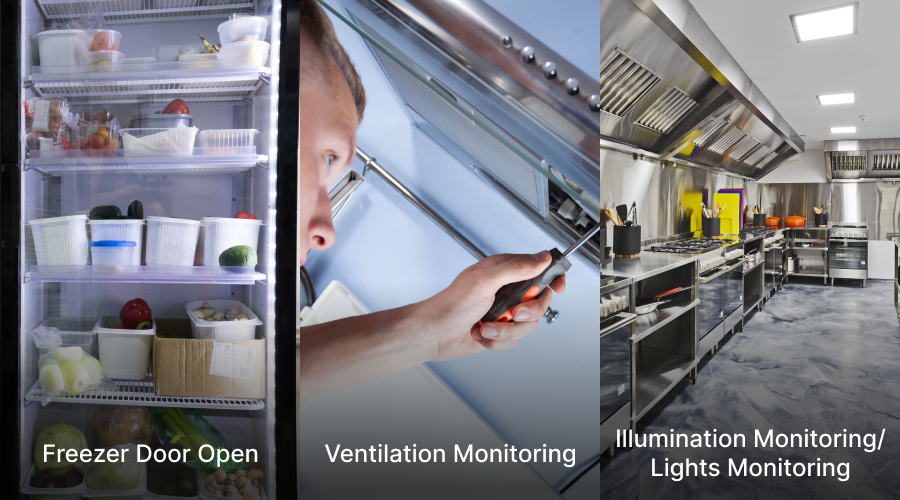 Freezer Door Open - Freezer is used to store raw materials and, in some cases, cooked or semi-cooked food as well. So, it is important that we do not keep the door open when the freezer is not in use. Although, it sounds quite simple, it is still prone to human error. A simple mistake like keeping the freezer open can cost you a lot of money, as most of the food and raw materials will be spoilt by the time you find out. So, instead of manual monitoring which is equivalent to post-mortem in this case, it is better to be proactive and switch to a Video Analytics powered solution. We can send real-time alerts, so that you can act quickly and avoid spoilage.
Ventilation Monitoring - Ventilation is extremely important inside a kitchen. In case of improper ventilation, the heat builds up inside the kitchen. It can lead to spoilage and can deteriorate the food quality as well. Ventilation is usually maintained by exhaust fans or chimneys. So, it is important to check whether they are switched on at the right time or not. We can automate the monitoring process by Video Analytics. So, you will get real-time alerts along with actionable insights to improve the food safety index of your restaurant.
Illumination Monitoring / Lights Monitoring - Proper lighting conditions ensure that people inside the kitchen can work properly. They can carry out their regular tasks like checking labels, cooking, etc. But in case of improper lighting, it becomes difficult to do all that. So, proper lighting is essential for maintaining food quality and ensuring food safety. Our AI-powered solution can automatically monitor the intensity of light in the kitchen and can generate real-time alerts, in case of poor lighting.
Food safety is directly linked to food quality. According to a survey conducted recently, around 72% if the respondents mentioned that food quality is the most important factor while choosing a restaurant. So, the ROI (Return on Investment) for deploying a Video Analytics solution is pretty high. It can almost guarantee higher footfall.
Ensuring food safety is essential for any restaurant and doing that manually does not work. It is highly inefficient, so there is a clear need of an AI-powered solution that can automate monitoring. Deploying a Video Analytics solution can help you improve food quality, which in turn will bring more customers.
Say goodbye to operational inefficiencies that
Hurts your revenue
Let's Talk
Schedule a call with us to learn how intelligent insights can help your business
Get in Touch
Ready to become a video intelligence insider?
Subscribe to our newsletter and be the first to know about the latest developments, success stories, and more
Food Industries Related Blogs
How Video Intelligence is Helping Drive-Thru Businesses Increase Revenue by Improving Speed of Service

Long wait times mean bad business. Here are 7 ways in which you can fix it!

Mitigate food safety risks, reduce wastage and avoid potential lawsuits with Video Intelligence!

Best Ways to Improve the Speed of Service for your Restaurant Business in 2023

How Did the Future of Fast Food Drive-thrus Arrive Ahead of Schedule?

7 Surefire Ways to Counter Labor Shortage and Improve Customer Experience

7 Loss Prevention Techniques for the Modern Food Industry

What Makes Video Intelligence a Game-Changer for Reducing Drive-Thru Wait Times?

Restaurants: Improve Customer Experience with a Digital-First Approach

Quick Food Safety Guidelines For Your Restaurant
Unlock Greater Profits, Time Savings & Peace of Mind
Experience the Power of AI-powered Video Intelligence to Detect and Resolve Operational Inefficiencies in Real-Time
Book A Demo