Introduction
Ensuring the safety of the workplace is paramount. It is essential for your customers & employees to feel secure. That sense of security can only come when they see that you care about security and follow the SOPs to deal with any unfortunate situation. It is impossible to predict an event like a robbery or fire. But we can take measures to mitigate the loss by acting quickly. This is however not possible by following traditional methods like manual monitoring. Deploying Video Analytics Solution will give you the agility to deal with these threats in the best way possible. While cloud video platforms provide high-quality cameras that can capture valuable information, monitoring it manually is a sub-optimal choice. It is much better to integrate Video Intelligence into your CCTV camera. Wobot.ai cares about the safety of your workplace & has built robust solutions to ensure that you can deal with any threat in the best way possible, ensuring minimum damage.
We have a range of use-cases covering theft, firearms detection, fire detection, etc. Let's look at some of them in detail.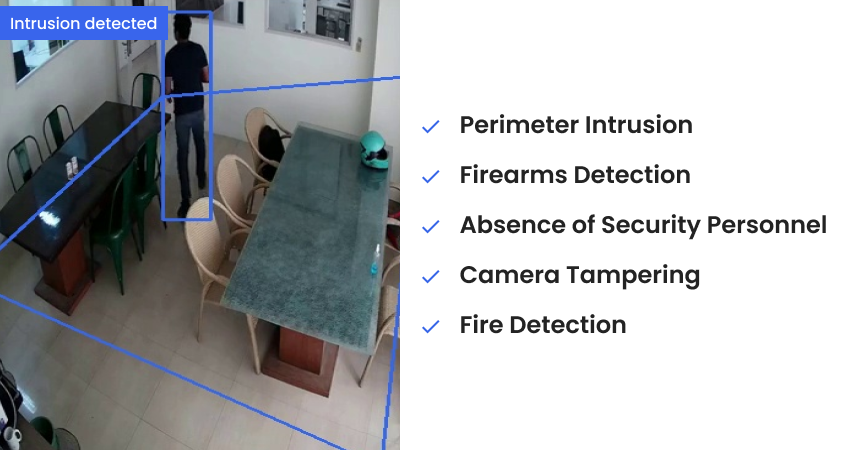 Perimeter Intrusion - There are secured areas in every workplace where only designated people can enter. Finding people roaming around such areas or trying to break in, is not a good sign, so with our state-of-the-art intrusion detection model, you can receive real-time alerts & act quickly. This can help in mitigating loss of life or money.
Firearms Detection - Seeing people walk around with firearms in a workplace is a horrible sight. It is definitely dangerous & hence strict measures should be taken to deal with it as soon as possible. With our Firearms Detection model, we can alert the concerning authorities and mitigate the loss of life or property.
Absence of Security Personnel - Having a sincere security staff is incredibly important as you rely on them in case of an emergency. However, you can have security guards who are not sincere or do not focus on their job. With our Personnel Monitoring solution, you can check how many times the guard leaves the workplace unattended. It is better to judge their competence & sincerity rather than blindly relying on them in case of an emergency.
Camera Tampering - Most modern workplaces nowadays have CCTV cameras. This is common knowledge & it is something that a burglar is also aware of, so the first thing they do after entering the premises is either disable the cameras or tamper with them in some way. Our smart video analytics solution can detect that and alert the concerning authorities of any potential crime in real-time.
Fire Detection - In case of an unfortunate event, like fire, there is a high chance of both loss of life and property. The only way to deal with this is to be agile and call the relevant authorities as soon as possible. This is exactly what our robust fire detection solution does. It will alert the respective authorities in real-time and help minimize the loss of life and property.
Conclusion
If you deeply care about the safety of your workplace, then deploying video analytics is almost a necessity. It will give you a great return on your investment. So, just hop over to https://wobot.ai/book-a-demo to book a demo. You can schedule a demo or simply start with a free trial and see our use cases in action.
Say goodbye to operational inefficiencies that
Hurts your revenue
Let's Talk
Schedule a call with us to learn how intelligent insights can help your business
Get in Touch
Ready to become a video intelligence insider?
Subscribe to our newsletter and be the first to know about the latest developments, success stories, and more
Video Analytics Related Blogs
How Video AI Can Help You Solve Major DriveThru Challenges in 2023?

DVR vs. NVR – Which variant should you choose and why?

Can a video analytics platform be the 'brains' behind your business?

Top Video Analytics Trends in 2023

A Simple Guide to Video Analytics Solutions

How Video Intelligence Can Flip the Script on Restaurant Labor Shortages

How can checklists and video data help restaurants

VMS vs. Video Intelligence – what works better for your business?

Top 10 Computer Vision trends to look for in 2022

Can AI-powered video intelligence be a game changer for your car wash business needs?
Unlock Greater Profits, Time Savings & Peace of Mind
Experience the Power of AI-powered Video Intelligence to Detect and Resolve Operational Inefficiencies in Real-Time
Book A Demo