4 Ways in Which Automating Restaurant Operations Can Create a Good Customer Experience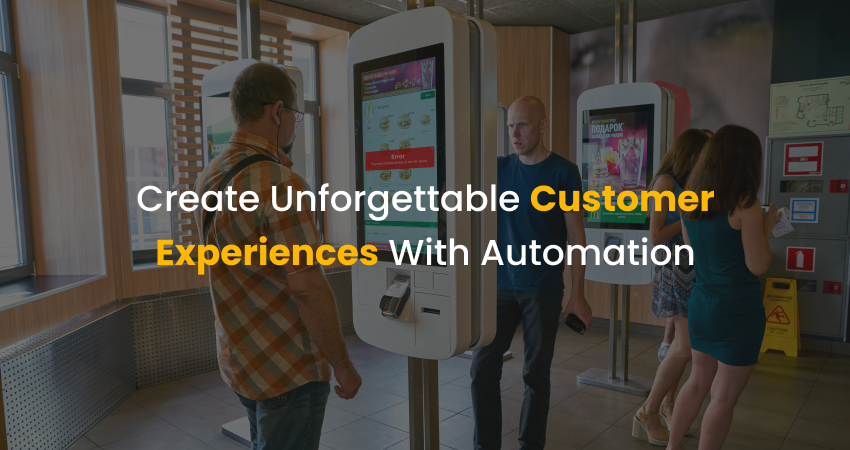 Introduction
A good customer experience is tantamount to your ability to deliver a consistent, engaging, and memorable experience at every touchpoint.
In present times, customers are habituated to looking at ratings on the internet before stepping into a restaurant. Which explains why customer experience is the only real driver of business as we move forward.
It is important to understand that everything from your restaurant cleanliness, to food hygiene, order-to-service speed, and staff productivity – affects customer experience directly or indirectly.
So, let's start by observing the areas in which restaurants are struggling.
What are the challenges restaurants face in creating a good customer experience?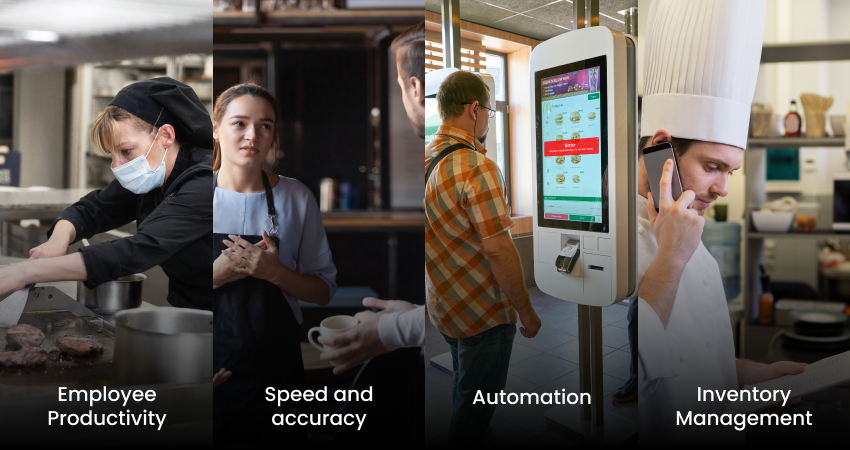 Employee Productivity
Employee acquisition and retention are one of the biggest problems restaurants are facing considering the peak in demand as things are returning back to normal. According to a survey conducted by Business Insider, 7 out of 10 restaurant operators don't have the staff to meet their current demand.
Restaurants have tried endless ways from giving bonuses to operating under reduced hours, trimming their menus, and whatnot. But there seems to be no immediate solution to this problem.
Fewer employees in key positions imply less productivity at different ordering channels. This increases the average wait time and service speed, leading to frustrated customers.
Inventory Management
For an average restaurant, their menus comprise 10 – 15 essential items that account for 50% of sales. Here, it is important for restaurants to identify these menu items so that they can stock their inventory precisely based on what is required.
Remember, the Pareto principle applies to your inventory as well – 80% of sales are driven by 20% of menu items. By knowing those 20% items, you can keep the stock ready and deliver customers their favorite food items, at all times.
Speed and accuracy
The Amazon effect is real. More consumers want what they order quickly and accurately. As per the SeeLevel HX Annual Drive-Thru study, the wait time to receive a drive-thru order increased by 25 seconds in 2021.
Customers feel anything longer than four cars at a drive-thru or 10 minutes at an ordering channel is too long. So, customers either drop out of the queue or never come back. On the other hand, more than 60% of customers feel speed and accuracy is the reason they come back.
Automation
More than 70% of restaurant operators have seen significant improvements in their restaurant experience by implementing technology in some form or manner.
Some of the most useful technological pieces have been – online ordering systems, online payments, loyalty programs, and guests' Wi-Fi. However, there still lies a gap in the usage of AI-based automation technology at restaurants.
Automating your operations creates a ripple effect across different challenges you face at restaurants. You'll see more about it in detail in the next section.
How automation will help you create a good customer experience?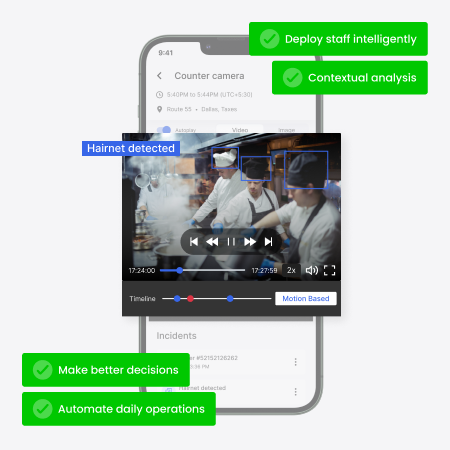 Automating restaurant operations entails the use of technology to make processes self-sustaining and effective throughout the day. For example, a system that could notify you whenever a staff member was spotted without hand gloves or a hairnet.
Wobot.ai adds intelligence to your CCTV cameras to make this possible by enabling real-time visibility and providing suggestive insights that help you take corrective actions instantly.
Automate daily operations
Restaurant cleanliness becomes easy with digital checklists. These checklists are a set of pre-defined tasks that must be carried out daily to keep a restaurant safe and clean.
Wobot.ai automates cleanliness operations by using camera systems at your facility to ensure best practices are followed daily by giving you feedback via alerts and notifications.
Managers can easily check the completion of tasks along with the video proof, which gives a clearer picture of what's happening at your restaurant, across different locations, all from a single station.
Deploy staff intelligently
Automating operations implies you can wisely deploy staff to essential areas in the restaurant. Accurate orders take less time than those that are delivered inaccurately.
Having staff at the right place, and at the right time ensures orders take less time for delivery, and customers get precisely what they order each time.
Make better decisions
Wobot.ai, uses your camera systems to detect bottlenecks and suggest the right course of action for in real-time.
For example, wait-time: every time your camera detects a car has waited more than 10 minutes at a drive-thru, you're alerted to add a complimentary drink for the customer's patience.
Contextual analysis
When it comes to the hottest selling items on your menu, which drives more than 50% of customers – Wobot.ai enables easy integration of your POS data. What happens here is that operators get a visual context for the data, which has two advantages.
Get real-time visibility into your sales, by getting video-proof of what sells the most when.
Prevent employee theft by getting the context behind the transactions through videos.
To sum it up
Most restaurants generate a plethora of video data every day which not only goes unused but provides no context to how operations can be improved to derive better returns for every dollar you spend.
Wobot.ai simply turns your video data instantly insightful by adding AI into it, to help you understand what's important for your businesses and take actions as and when they arise.
Good customer experience is a by-product when you automate your operations and make your video data useful.